Breadcrumb
Main Content
Institutional Overview
Vision Statement:
East Central College will connect its community to its future.
Mission Statement:
East Central College will provide an environment for lifelong learning.
Purpose Statements:
East Central College, in fulfilling its mission, will:
Provide associate degree programs and coursework to prepare students for transfer to baccalaureate institutions.

Provide associate degree and certificate programs to prepare students with requisite career skills to enter the workforce.

Prepare students in core academic areas for success in college-level studies.

Surround its academic programs with student development opportunities and learning support.

Be a center of cultural activities, providing enrichment to the community.

Enhance student learning through student activities, service learning and community activities.

Be accessible to all students.

Provide business and industry training in support of regional economic development.

Offer continuing education and personal enrichment opportunities to the community.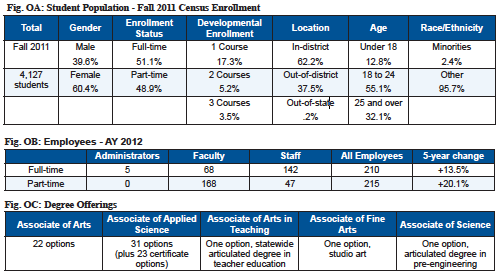 Satellite Locations
In addition to the Union (main) campus, East Central College offers coursework and varying levels of support services at several satellite locations:
Quality Journey
Accomplishments
Since starting as an AQIP institution, East Central College (ECC) has matured in its commitment to Quality Improvement and its use of Action Projects to target improvement initiatives. Activities, workshops and other events are themed around the nine categories and the focus is always on improving the quality of all we do for our stakeholders.
While the efforts have produced tangible improvements and advanced process development the College recognizes both the strengths and opportunities in its quality journey.
Much of what has occurred since the submission of the first institutional portfolio has been a more aligned approach to
Quality Improvement. The focus has shifted from work for the purpose of accreditation to work for improvement.
Strengths
Institutionally everyone recognizes the Action Project process as a means to an end.

New employees learn about Quality Improvement and their roles.

Assessment and planning processes have improved.

Institutional accreditation has both a different role and a regular presence.

Internal workshops and activities have focused time and energy on process improvement.
Opportunities
Time and commitment; getting everyone involved takes practice.

Habits of mind take time to change; some employees still a believe that this will go away.

Planning, Quality Improvement and budgeting are still overly separate.

Action Projects are getting better, but some have produced mixed results.
Quality Improvement
Some examples of Quality Improvement initiatives over the last four years:
Development of the Common Learning Objectives (CLOs
In response to a Higher Learning Commission (HLC) workshop on assessment, faculty at the College developed a set of CLOs, which are applicable to students completing a program of study. Since their initial adoption, the CLOs have been modified, and assessment strategies for each of the CLOs are in varying stages of implementation.
FAC (FAC)
Each year, faculty and staff at the College would submit requests for facility projects to their supervisors, the facilities director or an administrator, and hope that the work would be done. The FAC was formed as part of a newly developed process to address these projects. The submitted projects are evaluated using a rubric, and a prioritized list is developed annually.
Voluntary External Program Accreditation
Over the past several years, faculty and staff have sought out and committed to external program accreditation as both added Quality Improvement and external benchmarking, specific to those programs and disciplines. Budget and other resources have been designated to the effort