Congratulations on taking the first step towards your educational goals! Here is some important information to help you understand our program goals and potential outcomes. Due to the recent impact of COVID19 restriction on gatherings of people in public places, we are adjusting our class procedures. All students who would like to take advantage of our classes are invited to complete the registration form below. You will receive an invitation to Remind through a text or email, and you will be enrolled in an online orientation class. This will begin with our April orientation sessions.
Because every student has different needs it is impossible to give a timeline of when one will finish the class. The amount of time and effort put into the program and the starting skill levels determine when an individual is ready to take the HiSET test. To make significant gains toward getting a high school equivalency diploma, it is important to attend class each session.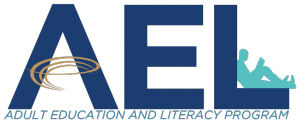 There is no cost associated with our program. The AEL program is free to everyone.  When you are ready to take the HISET test, there is a cost associated with it. We do not administer the test to you; we only prepare you to take the test.
Orientation Dates
All classes require an online orientation during which class requirements will be discussed. Testing for assessments will be scheduled by appointment. 
You can submit your information to register online by filling out the form at the bottom of the page or call us at 844-322-4235 (844-ECC-4AEL), 636-584-6533.*Effective August 28, 2009, Missouri law requires that 16 year old students seeking admission to an AEL class verify completion of 16 units of high school credit. An official transcript indicating completion of 16 units of high school credit must be furnished at enrollment.
Union (8:30 a.m.)
East Central College
Training Center (off Audrey Ln.)
1964 Prairie Dell Rd
Union, MO 63084
Rolla (8:30 a.m.)
Missouri Job Center
706 S. Bishop Ave.
Rolla, MO 65401
Hermann (8:30 a.m.)
Hermann Community Center
1902 Jefferson St.
Hermann, MO 65041
By appointment
By appointment
By appointment