Financial Aid Home
---

You've made a smart educational and financial decision by choosing East Central College! We offer a high-quality education at an affordable cost. Even though the cost to attend East Central is one of the lowest in the state, you may still need help in paying for tuition, fees, and books.
Financial assistance is provided in many forms. Through a process of careful planning and preparation, higher education can be an obtainable goal. Each student must take the responsibility to review his or her goals, evaluate their family's financial situation, and determine a course of action.
Fortunately, students do not have to do this entire process alone. The Office of Financial Aid is here to help you!
Before explaining how financial aid is determined and what sources of financial assistance are available it would be helpful to familiarize yourself with some of the terms you will encounter. Please read the Glossary of Terms so that you will better understand the information provided.
Priority Deadlines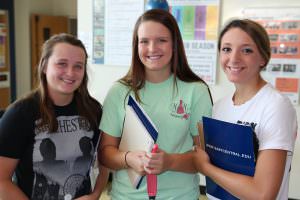 : Students who submit their Financial Aid Application (FAFSA) and request documentation on or before the following priority deadlines, and are eligible to receive benefits, will be held in classes. All documents must be received by the financial aid office no later than:
Fall: July 1
Spring: December 1
Summer: May 1
After Priority Deadlines: Students who submit their Financial Aid Application (FAFSA) after the above priority deadlines should set up a payment plan by logging into your eCentral account and selecting Payment Plan to ensure that their classes will not be canceled on the day fees are due. Students should allow 4-6 weeks for
the processing of financial aid applications.
---
ALL Financial Aid Recipients should READ the following:
All items are available in the East Central College Financial Aid Office or noted below.
FAFSA Instructions: https://studentaid.gov/h/apply-for-aid/fafsa

ECC School Code for the FAFSA:  008862

Student Aid Report (emailed directly to the student by FAFSA)
Award Letters – Award letters are NOT mailed. A new award letter is posted to MyECC (eCentral) under Financial Aid anytime a change is made to the scheduled award.
Class Schedule/Bill Information – Received at the time of enrollment