Workforce Preparation
---


HOW WE CAN HELP YOUR BUSINESS:
As workplaces become more complex and technology-based,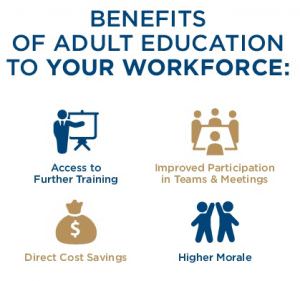 low literacy creates a gap between the workforce and the needs
of businesses. Businesses competing in a global economy
require increasingly higher levels of education and training.
Low literacy skills among American workers threatens the
ability of businesses to compete on a global level.
The East Central College Adult Education and Literacy Program
is an important, FREE student resource to the community and area
businesses. Each year, the AEL Program assists hundreds of
students in getting their High School Equivalency (formally
GED), preparing for college classes, learning the English
language and preparing for the citizenship test.
Workers who cannot read and interpret signs and instructions
compromise safety, slow production and cause errors that affect
profits, customer satisfaction, and compliance with laws and regulatory
requirements. Low literacy also affects the ability of workers to
communicate with each other and function as teams.

Workforce Training
In cooperation with the East Central College Center for Workforce Development, we provide job training opportunities for students receiving AEL services. These integrated education and training
opportunities include Certified Nursing Assistant, Introduction to MIG Welding, Microsoft Office and Certified Warehouseman. In these classes, students are given additional training in reading,
writing, math and workforce skills while completing the job training.
Adult Education & High School Equivalency
We can provide classes to improve a student's skills in math, reading, writing, social studies and science at your place of business. All classes are provided, at no cost to students, with books and materials for students while in class. Instruction is individualized to meet a
person's needs with instructors who will work with students to reach their goals. The classes are designed to prepare students to pass the High School Equivalency Test (HiSET).
College Preparation
Are your workers ready to take the next step in their education but feel under-prepared? We can help prepare them to take college entrance exams or job related testing such as WorkKeys (NCRC). The AEL Program assesses their knowledge and helps your workers focus on specific skills and learn the concepts needed to score higher on any academic test.
English Language Classes
Foreign-born employees often have many hurdles to overcome. While some have advanced degrees from their home country, they still lack the communication skills to be successful in the workplace. English Language Acquisition classes provide students with a working knowledge of English in preparation for citizenship tests, the workplace, additional education and daily living.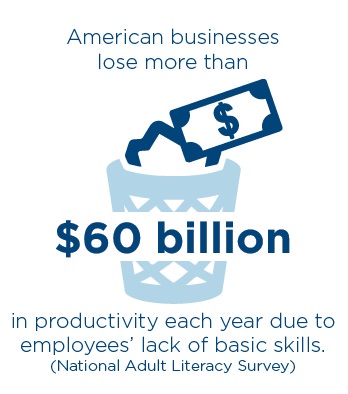 We want to help your business succeed!
The AEL program is staffed with caring, patient and
knowledgeable individuals who enjoy helping students
reach their short-term and long-range goals.
(636) 584-6533
(844) ECC-4AEL
www.eastcentral.edu/ael • ael@eastcentral.edu
Alice Whalen, Director
Mary Eagan, College and Career Readiness Advocate, Volunteer Coordinator
Brenda Eckelkamp, Administrative Assistant