Alum, Artist Returns to Share Her Story
East Central College alum Shauna LeAnn Smith returned to the Art Department last semester as a visiting artist and educator.
Her art installation—"The Gilded Doorways"—was a way for her to honor the place and the people that helped guide her life and career.
While installing the work on campus, Smith meticulously placed gold flake on the doorway to ECC's art studio. She noted that gold is an energizing color — a substance that has historical and visual merit, and value.
Smith, who graduated from ECC in 2014 with an Associate of Fine Arts degree, added that coupled with the literal and figurative power of a doorway, the gilded entryway "represents that the space and department you're walking into is special."
Smith transferred to Missouri State University after ECC where she earned a Bachelor of Fine Arts. She is currently the Museum Assistant in Education at the Springfield Art Museum.
Smith noted how special the community and learning environment surrounding the ECC Art Department is, and how she wanted to return and give back to the department.
The Union High School graduate remembers visiting ECC during the Art Department's High School Portfolio Day.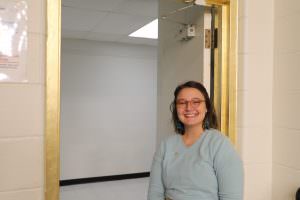 "I didn't foresee what was next," she said. "Nobody in my family had gone to college, and my path wasn't clear."
However, studying art at ECC opened Smith's eyes.  She began to see a world outside her own, and realized the possibilities for her future as an artist.
"I was amazed every day," she said. "You can be that kind of person?"
In 2012, Smith went to London with the Art Club, another experience that affirmed her choice to be an artist.
"I began to realize I could go places in the world," she said. "It was something I was capable of doing."
Smith's Vision
Smith proposed her vision to Jennifer Higerd, assistant professor of fine arts; and Adam Watkins, assistant professor of fine arts and department chair during an alumni art show at ECC last spring.
Her project, "The Art Department as Place and the Power of Human Participation in Place-making," was accepted, and she spent her days at ECC working on "The Gilded Doorways," and teaching and mentoring students' "site-responsive" works of art.
"No matter where I am in the world, so much of East Central stays with me," Smith said. "I have so much care and love for this place, professionally and personally."
According to Higerd, Smith has blossomed as an artist and educator.
"It makes my heart swell and glow to see Shauna come back and be in the room with such confidence," she said. "She has grown into the role of artist, and artist as teacher."
When Watkins saw the proposal for The Gilded Doorways, he said, his emotions took over.
"We always like to think that we're making that type of impact," he said.
While attending ECC, Watkins added, Smith was "inquisitive, and always looking, trying to get more answers and dig deeper—she always showed up to class with questions and wanted to be part of the conversation."
"It was amazing to have her back," he said. "Now she's a peer — challenging and asking questions of the next generation of students. It's powerful."
Collaboration
 Smith's residency consisted of two parts: her public work of art, The Gilded Doorways (which can be seen around the doorways of HH 250 and HH 260), and instruction and mentorship for students' site-responsive works of art. Students in Higerd's Design I and III classes worked in small groups to create these pieces.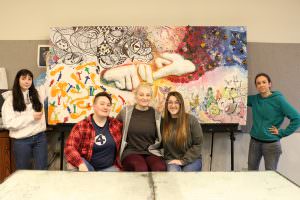 One of the collaborative works was created by Design III students Logan Bartle, Caroline Cox, Olivia Tucker, Anna Wright and Grace Hoener. They worked together and considered their varying mediums, and how the differences could represent unity.
Cox said the project provided a way to express what the school means to the students, and the friendships that developed during the collaboration.
Bartle and Cox shared the impact of having Smith as a visiting instructor.
"It's eye-opening to see someone who is so successful come back," Bartle said.
"It makes you realize you can do it too," Cox added.
Bartle, a Sullivan High School graduate, plans to pursue art education at the University of Missouri – St. Louis. Her part of the project is abstract paint and flowers.
Cox is a Washington High School graduate who plans on studying art therapy at Webster University. She worked with modeling clay to contribute to the piece.
Tucker, also a Washington graduate, contributed illustrative drawings.
Wright, of the Gerald area, was homeschooled before coming to ECC. She is planning on attending the Kansas City Art Institute next year. Her ink and watercolor are featured
Hoener, from Hermann High School, plans on pursuing art education, and her pen drawings helped complete the large-scale piece.
The individuals' contributions meet in the middle, a large paper mâché sculpture of connected hands making the American Sign Language sign for "friendship."
During a November 19, 2019 critique, Smith coached the student artists:
"Take up space," she guided, encouraging them to use their voices to critically discuss their work.
"We all have different styles and backgrounds; as it gets closer in the middle, we come together and learn from each other," Tucker said.
She added that the hands were a visual representation of their new friendship, and integrated gold between the interlocking fingers to pull in the Gilded Door project.
"I love that you all found a way to collaborate and still brought your individual, authentic selves," Smith said to the students. She stressed the importance of creative problem-solving and the "energy of collaboration."
"You unleash a power of creativity," she said, "when you recognize the time, labor and energy that goes into art-making."
Residency at ECC
Smith emphasized that she wanted her residency at ECC to show her deep appreciation for how the college shaped her as an artist and person, and to demonstrate how much power there is in community.
Smith has played many roles at ECC: visiting high school student, student, alum, featured artist and teacher. Watching her grow and evolve as a person and artist has been, as Higerd and Watkins reiterated, such an honor.
Smith's journey is far from over. Next, she plans to attend graduate school and continue to make an impact on the students, communities and art spaces that she inhabits.
At ECC, her Gilded Doors remain — the shining gold doorways reminding all who enter that they deserve the education and transformative experiences ahead.