Breckenkamp Named Outstanding ECC Alumni
Scott Breckenkamp paid his way through college by working part-time jobs during summer months and throughout the year while attending classes.
Through his hard work, dedication and continuing his education, Breckenkamp today is the First State Community Bank (FSCB) president of the Washington and Pacific markets.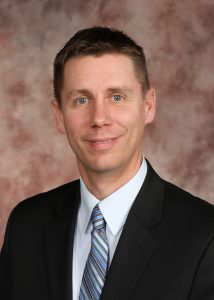 Breckenkamp, of Washington, was chosen as the 2020 East Central College Outstanding Alumni for his professional accomplishments and service to the community.
"East Central College has always been a special place to me as it was an affordable option as I began my education beyond high school," he said. "I had to pay for my own college so this allowed me to stay local, live at home, continue to work and take the courses I needed.
"ECC is a local treasure and we should all be proud to have this wonderful resource in our backyard," Breckenkamp added.
According to Bridgette Kelch, ECC Foundation executive director, the award is presented annually by the ECC Alumni Association to honor an ECC graduate who has used his or her education and been of service to the community.
"Scott is a wonderful example of an ECC graduate who has gone on to become a successful community member and volunteer," Kelch said. "We are thrilled to recognize Scott for his accomplishments and thank him for his work with East Central College."
Breckenkamp graduated from St. Francis Borgia Regional High School. He attended ECC in 1988-89 and earned an Associate of Arts Degree before transferring to Missouri State University, Springfield, where he earned a Bachelor of Science Degree in finance.
ECC played a vital role in his education because he still could work to pay tuition while taking classes. It was easy to then transfer to MSU to attain a four-year degree.
According to Breckenkamp, his former economics teacher and advisor at ECC, Bryan Hickey, helped guide him toward a finance degree and set him down a career path in finance/banking.
"I am forever appreciative of his guidance," Breckenkamp added.
After graduating from MSU, Breckenkamp worked at US Bank in Washington. He also had been employed at the Bank of Washington, US Bank in St. Louis and Merrill Lynch.
Breckenkamp returned to Washington and became vice present and later president of US Bank. In 2005, he became the first president of the new Washington branch of FSCB.
He has been very active in the community and in the county by serving on the ECC Foundation Board, Mercy Hospital Board of Directors in Washington, Washington Rotary Club, Franklin County Area United Way Board and Washington 353 Corporation.
Breckenkamp also has coached Little League football for one of his three sons and coached basketball at Our Lady of Lourdes. He is a member of the Knights of Columbus and Borgia Athletic Association and has been chairman of the Borgia Dinner Auction. He is a Washington Town and Country Fair volunteer, among many more volunteer jobs.
Breckenkamp is married to Julie Pogue Breckenkamp and they have three sons: Tyler, Connor and Spencer.
The ECC Alumni Association established the award in 2002 to recognize outstanding alumni who have set an example for ECC graduates by using their college education and serving their community.
Past recipients include: Tanya Voss, John Griesheimer, Tom Robertson, Chris Manhart, Deborah Koelling, Tammy Watz, Dr. Frank Miller, Ken Schmidt, Chris Stuckenschneider, Ann Schroeder, Ted Coburn, Linda Mahon, Joe Purschke, Amy Wildhaber, Tony Kreutz, Dave Arand, Audrey Freitag, Ron Unnerstall and Dorothy (Dot) Schowe.