College Gifted Steinway Grand Piano
It was the generosity of an area woman and her connection to East Central College Foundation Patrons of the Arts members that facilitated a historic donation to the ECC Music Department.
The department recently received a 7-foot Steinway and Sons Model B grand piano, which matches a performance piano currently used by students and faculty at ECC.
According to Dr. Jennifer Judd, music professor and program coordinator, this is the first time the college has had two performance pianos the same size, which will greatly benefit instruction and performances.
The Steinway piano was donated by Joan Kerr, of Wildwood, who had inherited the instrument from musician Preston Bowling.
Since she does not play, Kerr felt it would be appropriate to donate it to a worthwhile recipient to honor Bowling.  Her neighbors, who have been ECC Patrons of the Arts members for many years, heard about the instrument and asked Kerr d if she would be willing to donate the Steinway piano to the ECC Music Department.
"It is good to pass the legacy of a wonderful instrument from musician to musician," Judd said. "We all appreciate her generosity."
Judd added that the Patrons who helped facilitate the gift to ECC asked to remain anonymous. She added that Patrons of the Arts have been incredibly generous to the college's music department.
"I would like to thank our Foundation and Patrons of the Arts for their tireless support," she said.
"All of the other grand pianos in the music department were purchased by contributions from our patrons. ECC patrons play a vital role in the success of our program."
Students, Teachers Benefit
ECC student Zacharias Sourthard, of Rolla, said he sees great benefits from having matching performance pianos on campus.
"This is a great benefit to the department, and I have found that the piano sounds much richer than others I have practiced on," he said.
Sourthard added that the opportunity to play on the Steinway piano is a great experience for his future endeavors.  He is slated to graduate in the Spring 2022 with an Associates Degree in Fine Arts with an emphasis in piano.
Sourthard has been accepted to the University of Central Missouri, Warrensburg, where he will study piano pedagogy — the study of teaching piano.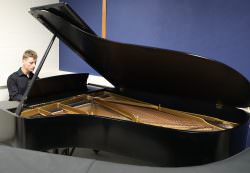 He said he is still exploring his options to teach after he graduates with a bachelor's degree, and he ultimately would like to teach piano at a university.
"I aspire to teach music theory and performance," Sourthard said.
He already is gaining experience in teaching piano at Watson School of Music in St. James where he teaches piano lessons.
"It is giving me the opportunity to start teaching instead of learning second hand," Sourthard said.
In addition, he also will be the accompanist to solo and ensembles this spring during the Missouri High School Sports and Activities recitals.