Dual Enrollment Student Gets Ahead and Finds a Passion
While many other 15-year-old freshmen were studying high school courses, Claire Grace Smith, Rolla, was embarking on her college career at East Central College.
Smith, 17, is being homeschooled in high school curriculum and taking part in ECC's dual enrollment program.
Smith is a high school junior and she will have 41 college credits at the end of this spring semester.
She looked at dual enrollment programs at several public and private schools but ultimately felt most comfortable at ECC.
"I when I came to ECC I was able to walk around and see the environment. It was really positive and looked like a place I would enjoy coming to," Smith explained.
She said enrolling in the dual enrollment process was easy thanks to ECC Rolla's staff. Smith's advisor and the Rolla front desk employees helped her pick out classes that had smaller head counts to ease her into taking college courses.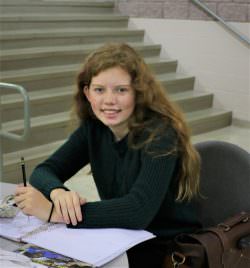 "My advisor and the people who work the front desk were incredibly helpful. They helped me pick out classes that would be a good fit for me, coming from my homeschool experience," said Smith.
Understandably, Smith felt some apprehension beginning college courses as a homeschooled high school student. The help and instruction she received at ECC Rolla quickly dissipated any nerves she had.
"I thought transitioning from home-school to college courses would be really hard and that other students would judge me because I started when I was 15," she said. "I only had movies to get my information from since I had never been to a school before. But it wasn't scary at all.
"I love the positive environment for learning. Here at East Central they are very understanding and kind."
Smith expressed excitement when talking about her career path. She entered the dual enrollment program interested in history but has since decided she wants to teach English. Her experience at ECC has made her want to teach at a college just like it.
"My dream job would be an English professor. I would love to teach at a college like this and have passionate students," she added.
A passionate student herself, Smith is excelling at ECC. Dr. Greg Stratman is one of her English teachers who was pivotal in her sudden interest in literature and the career it could bring her in the future. Stratman has nothing but praise for Smith's dedication in the classroom.
"Claire's insights in literary analysis were always astute and well thought, and often quite intriguing in their approach to the works we read," Stratman explained.
"Whether in writing or during classroom presentations, she was consistently well prepared, creative, and articulate," he added.
"It is gratifying these days to have a student take such sincere interest in reading and challenging herself to expand her perspectives."
For more information on dual enrollment, visit www.eastcentral.edu/earlycollege/ or contact earlycollege@eastcentral.edu.