Early College Academy Orientation Held
On Thursday, July 30, there were 15 Union High School students who took the next step in their educational journey at East Central College.
The soon-to-be UHS juniors — who will also be ECC students later this month — attended orientation for the Early College Academy.
These students are the first class of the ECC Early College Academy. That means in two years, they will have something their classmates won't — a college degree.
Orientation was a time for the group to come together with their families to learn more about starting college this fall. Orientation covered class schedules, student handbook information, online tools, campus resources, safety, and COVID-19 precautions, according to ECC Director of Early College Programs Megen Strubberg.
Students also had the opportunity to explore campus to find their classrooms and walked away with course materials in hand.
"The students in this program are driven and talented, and I cannot wait to cheer them on as they cross two stages in 2022!" Strubberg said.
"It was wonderful to be able to be able to gather in person and feel the excitement from students and families, even though their smiles were hidden by masks," she added. "I deeply appreciate the leadership of Union R-XI and ECC for their support in making this happen."
Students will begin classes at ECC on Monday, Aug. 24.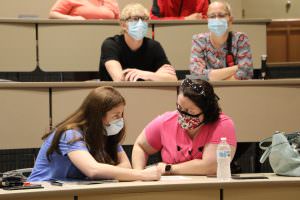 Under the Early College Academy, the students will attend classes at UHS and on the ECC campus with the goal of earning an Associate of Arts or Associate of Science degree, as well as their high school diploma.
Strubberg said students will attend class with other college students at ECC, all taught by instructors at the college. Students will have access to the ECC Learning Center, library, student clubs and activities.
There is no cost to the high school students to participate in the academy.
Both Strubberg and Markie Lampkin, UHS assistant principal over sophomores and juniors, and other ECC staff attended the orientation held in the ECC Health and Science building.
Lampkin has worked collaboratively with Strubberg with the support of the Union R-XI Board of Education, Superintendent Dr. Steve Weinhold and Assistant Superintendent Dr. Scott Hayes to spearhead and roll out the Early College Academy initiative.
Strubberg hopes that additional high schools will be interested in offering this program to the class of 2023, and she will be reaching out to administrators to gauge interest this academic year. Anyone with questions can call 636-584-6723 or email earlycollege@eastcentral.edu.