ECC and Lindenwood Agree to Seamless Partnership Plan
East Central College and Lindenwood University entered into a partnership Thursday, Aug. 25, to provide resources and opportunities that will serve as a "bridge" to a four-year degree.
The new partnership outlines easily transferable credits that ECC students can earn to obtain an associate degree, while preparing them to succeed at Lindenwood.
The agreement was signed at ECC's Union campus by ECC President Dr. Jon Bauer and Lindenwood University President Dr. John Porter.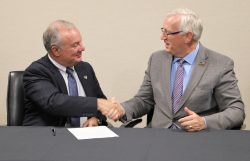 "We rely on good transfer partners to provide quality pathways for our students," said Bauer. "Lindenwood is a great fit for many of our students and the commitment of Dr. Porter and the entire Lindenwood community will ensure a seamless transfer experience. This work is great news for students."
Also representing ECC at signing event were Vice President of Academic Affairs Dr. Robyn Walter and Vice President of Student Development Sarah Leassner; and Lindenwood representatives were Provost and Vice President of Academic Affairs Dr. Bethany Alden-Rivers, and Senior Vice President of Lindenwood Global Dr. Joe Sallustio.
"It is important to East Central College that our students are prepared for upper-level coursework when they transfer and, in addition, receive credit for the courses they have completed," Walter commented. "Lindenwood is a high-quality and student-centered four-year partner, and we are pleased to add this agreement to strengthen our already excellent relationship."
Dr. Porter noted that the values of ECC and Lindenwood align, making a beneficial partnership.
"Partnering with two-year institutions whose values align with Lindenwood University benefits both schools," Porter added. "East Central College's commitment to excellence and community enrichment through education mirrors Lindenwood University. I'm so pleased to work with Dr. Bauer and Dr. Walter on this partnership."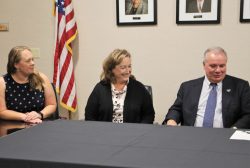 Washington Scholarship
In addition, Lindenwood University evaluates ECC graduates each year for the opportunity to be awarded an academic bridge "Washington Scholarship" for up to $9,000 annually for full-time, traditional, undergraduate students. Students can earn an additional $2,000 per year for completion of an associate degree and another $1,000 per year if they are a member of Phi Theta Kappa.
To qualify for the scholarship, ECC students must come directly to Lindenwood from ECC within one academic year. Traditional undergraduate students must be full-time students at Lindenwood to receive Bridge Scholarship opportunities.
Evening and online undergraduate students can be part-time students at Lindenwood to receive Bridge Scholarship opportunities.
Must obtain an associate degree from East Central College to receive the Bridge Scholarship opportunities.