ECC Graduate Receives PTK Transfer Scholarship
East Central College Class of 2021 graduate Jenna Meintz recently was awarded the Phi Theta Kappa Distinguished Achievement Scholarship to attend Webster University.
Meintz, Steelville, will use the scholarship while working toward abachelor's degree at Webster.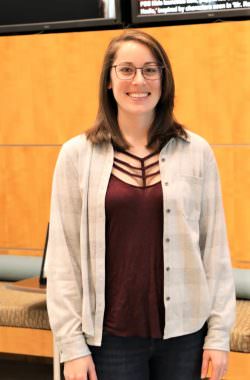 She graduated from ECC with an Associate of Arts degree in Business Administration with an emphasis in finance. The PTK Distinguished Achievement Scholarship will pay the full amount of Meintz's tuition during her time at Webster University.
This competitive scholarship is awarded to only two students who are transferring to Webster. To qualify, the students must be members of the PTK international honor society and have a grade point average of at least 3.5.
Meintz graduated from ECC with a 4.0 GPA, demonstrating the highest level of academic excellence.
In addition, she served as the Public Relations Officer for the Chi Delta chapter of Phi Theta Kappa, as well as the President of Student Government Association at ECC.
Meintz also is employed full-time in a managerial role.