ECC Graduate Receives rootED Scholarship
An East Central College 2021 graduate was the recipient of a rootEd Alliance Transfer Scholarship.
Benjamin Schwanitz, who is now a student at Truman State University, Kirksville, was awarded up to $10,000 through the scholarship. The scholarship is renewable for up to five years as Schwanitz pursues a bachelor's degree.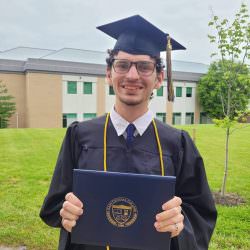 "I am attending Truman State University thanks to this lifesaving scholarship," said Schwanitz. "It was truly remarkable that I was able to receive the scholarship."
Over the past three years, rootEd Alliance has provided dedicated support to students from rural areas and small towns across Missouri as they pursue their education beyond high school.
The organization does so, in part, through providing funding and resources for student success advisors in high schools and community colleges, and through creating opportunities like the rootEd Alliance undergraduate and community college transfer scholarships.
This year rootEd partnered with the Scholarship Foundation of St. Louis to award 18 new scholarships to undergraduate and transfer students from rural Missouri, filling critical gaps in students' financial aid packages to help ensure they graduate debt-free.
For more information about rootED at EEC, contact Melissa Schall Willmore, student success advisor, at melissa.schallwillmore@eastcentral.edu or 636-584-6530.