Henderson Receives National Excellence Award
Sue Henderson has served in many capacities at East Central College, and through those roles she exhibits a passion for student learning.
Her passion, as well as dedication, to students and education is why Henderson is a recipient of a NISOD (National Institute for Staff and Organizational Development) Excellence Award.
The assistant professor of English was nominated for the national award by one of her peers, who also noted Henderson's relationships with other ECC faculty members.
"She has served East Central College in countless ways throughout the span of her career," her nominator commented. "Whether inspiring students in the classroom, leading faculty organizations, spearheading assessment initiatives, or serving as a personal and professional mentor to her colleagues, Henderson's gifts and talents have been transformative on individual and institutional levels."
Henderson serves as the Chair of the Instructional Assessment Committee at East Central College.
"Her ability to champion change in best practices and models of teaching and learning doesn't only stem from passion, but also from a significant commitment to professional development, research of best practices, and collaborative creations," her colleague said.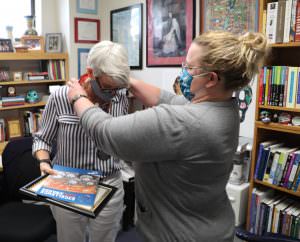 Henderson recently completed a post-graduate certification in Assessment of Student Learning.
"This credential and her passion for continual improvement has positioned her as an engaging leader, not just among faculty, but campus-wide," said a peer. "She takes the approach to welcome ideas from all staff and offer support, and she leads with latitude and respect."
About the Award
The NISOD Excellence Awards is an opportunity for member colleges to recognize individuals doing extraordinary work on their campuses.
Each Excellence Award recipient receives a unique silver medallion engraved with The University of Texas and NISOD insignias and adorned with a burnt orange ribbon.
The overarching statement expressed through the award is that teaching and leading on the front lines of the community college mission rest on the shoulders of these outstanding individuals.