ECC Receives Historic $5 Million Donation
East Central College—through the East Central College Foundation — has received the largest donation in its history – $5 million to be used for nursing scholarships and the campus food pantry.
"Lives will be changed and lives will be saved because of this incredible gift," said Dr. Jon Bauer, college president. "Students are being afforded the opportunity to pursue their dream of becoming a nurse. I can think of no better way to see the exponential impact of this gift.
"Because every student who becomes a nurse will go on to make a tremendous impact in the lives of countless patients. And for students who need the most basic assistance, the food pantry will be well-positioned to provide that help when it's most needed."
The donation is from a couple, asking to remain anonymous, who has been funding a memorial scholarship for nursing students since 2018, according to Bridgette Kelch, Foundation executive director.
Previously, the couple established a charitable remainder trust (CRT) with the Foundation which pays them a specific percentage annually for the rest of their lives. That trust today is valued at $1.5 million.
A CRT is a gift of cash or other property to an irrevocable trust. The donor receives an income stream from the trust and the charity receives the remaining trust assets at the end of the trust term.
Another option for those who itemize their deductions is the charitable contribution limitation, which has been extended for 2021. The limitation for cash contributions, formerly set at 60 percent, has now been raised to 100 percent of an individual's adjusted gross income (AGI).
The couple encourages others to explore either or both options with their financial advisors.
"These types of gifts are a win-win for both the donor and the nonprofit," said Kelch.
"We are shocked and so unbelievably grateful about what this gift will mean for our students now and in the immediate future," Kelch said. "To receive this record-breaking gift during a pandemic speaks volumes of the donors and their commitment to education.
The scholarships are for students with financial need enrolled in the nursing program, giving many students much-needed financial relief during the COVID-19 pandemic, Kelch commented.
Although the donor wishes to remain anonymous, Bauer said it is important for college stakeholders to know about the gift.
"This historic moment starts with compassion and generosity," Bauer said. "We know it is very important to the donor that resources are used to improve the world around us. Moreover, this gift speaks to the quality of the work that goes on at East Central. I am grateful for this gift and for the trust that has been placed in us."
Kelch echoed that sentiment.
"Every dollar committed to the ECC Foundation helps strengthen our communities and enhances the lives of students forever," she said.
Kelch added that every student can benefit from the campus food pantry if they are in need.
ECC maintains the student food pantry to help students throughout the year who might need some occasional help with food needs during any given week. Multiple campus student clubs, faculty and staff donate regularly to the pantry to help keep it stocked.
"This donation gives a substantial financial boost to our pantry which ensures any student in need will not go hungry," Kelch said.
East Central College is a comprehensive community college based in Union, MO. The institution serves students throughout east-central Missouri.
The ECC Foundation is a 501c3 and was established to support the growth and development of ECC. It solicits and receives tax-deductible gifts which are managed solely for the benefit of the college and its students.
To learn more, visit www.eastcentral.edu and www.eastcentral.edu/foundation/.
The scholarship has been life-changing for many nursing students and graduates, including Summer Thorp-Lancaster and Kaitlyn Johnson.
Summer Thorp-Lancaster
Thorp-Lancaster graduated from ECC in May 2021. She attended nursing classes at ECC in Rolla for two years and received scholarship funds both years. She is working at Phelps Health in Rolla in a "float pool" so she gets experience in many areas.
"I don't think I can ever adequately convey my gratitude for the generous gift that supported my first endeavor into college," Thorp-Lancaster said.
She also said the scholarship funds limited the sacrifices she and her family had to make and allowed her to earn a degree without the burden of student loan debt.
"Before deciding to go to school, my whole family sat down and discussed the various sacrifices we would all need to make in order for this to work," Thorp-Lancaster said. "The scholarship meant that some of those sacrifices weren't needed after all."
Kaitlyn Johnson
The nursing scholarship has been life-changing for Johnson, who is studying to be a registered nurse.
She is employed as a licensed practical nurse on the medical surgical floor at Mercy Hospital Washington.  She is set to graduate from ECC this December and she'd like to move to the labor and delivery floor at Mercy.
Johnson, 28, graduated from St. Clair High School in 2011. She received scholarship funds last year and this year while enrolled in ECC's LPN to RN bridge program.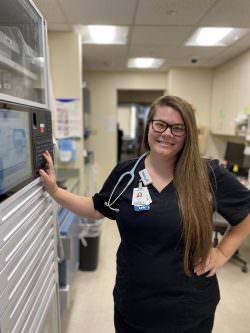 "The funds helped relieve financial stress on me and my family," she said. "I didn't have to pick up extra shifts to make ends meet or worry about my student loans piling up."
That means she can spend more time with her three-year-old son, Nolan, who is her inspiration to succeed as a student and as a nurse.
"He is the reason to keep striving for my dreams and I am able to spend my extra time studying or spending precious time with my son," Johnson said.
James Johnson
James Johnson is a nursing student who has returned to school after being the workforce as a chef and graphic designer. He received a scholarship from the donor last year and this year.
"It has helped me greatly. I had planned to pay for school with the help of my wife but COVID impacted us financially," he said. "Because of the scholarship, I was able to focus all of my attention on school and I worked minimal hours as a lab assistant in the science department."
Johnson added that he intends to work in St. Louis at an emergency department after graduating from ECC and then continue his education.
"Once I gain a few years' experience I would like to work as a travel nurse," he said. "Eventually I will probably seek a master's in nursing informatics, but that may still change."