ECC Recognizes Employees for Years of Service
Each year, East Central College recognizes the hard work and commitment of its employees during the Annual Service Awards Recognition banquet.
The banquet, held on March 31, is an opportunity to show that the college values the employee's dedication to students' needs and educational goals, and to the community ECC serves.
The service award banquet also is an opportunity for administrators ­to individually recognize each employee and the work that they do for the college and students.
This year's annual banquet honored those who have been with ECC for 5, 10, 15, 20, 30 and 45 years.
"The ECC board of trustees and I are deeply appreciative of the dedicated faculty and staff at the College," said Dr. Jon Bauer, ECC president.
The ECC Culinary Department provided dinner and service for award winners and their guests.
Service Award Winners: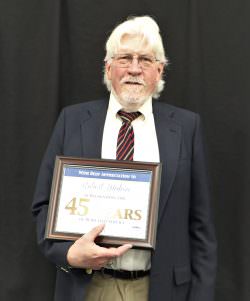 45 Years — Dr. Robert Mahon.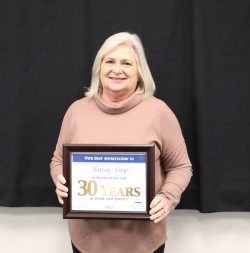 30 Years — Sharon Hays.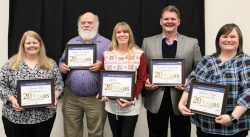 20 Years — Pictured, from left, are Karen Klos, Miguel De Aguero, Debra Simily, Russell Henderson, and Melissa Popp.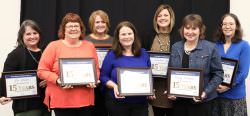 15 Years — Pictured, from left, are Alice Whalen,  Melanie Dixon, Anne Lause, Ellen Aramburu, Christina Ayres, Wendy Hartman and Dr. Elizabeth Winters-Rozema. Not pictured area Sheila Flynn and Cynthia Maune.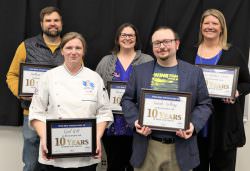 10 Years — Front row, from left, are Gail Witt and Dr. Isaiah Kellogg.
Back row, from left, are Nathan Esbeck, Megen Strubberg and Lisa Mathes-Peters. Not pictured are Julie Apperson, Timothy Gray and Donna Kennedy.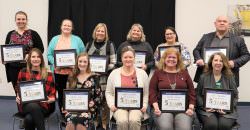 5 Years — Front row, from left, are Cynthia Brinker, Naomi Joyce, Jenifer Goodson, Pamela Kaiser and Lisa Hanneken.
Back row, from left, Amanda Studdard, Amy DeMiere, Annette Moore, Brenda Driemeyer, Laura Hemker and Jon Noelker. Not pictured are Kimberly Aguilar, Susan Altemeyer, David DeArmond,  Sarah Haines, Raphael Maurice and Kirby Moreland.