ECC to Offer Summer Learning Academy at No Cost
East Central College will once again hold its Summer Learning Academy (SLA) and this year there is no cost to participate.
The academy, facilitated by the ECC Community Education division, will provide a unique, fun experience for area youth on the Union campus or the ECC Rolla site this summer. This is the first year there will be classes offered in Rolla.
There are a variety of classes geared toward children ages five to 16 including, archery, science rocks, robotics and computer programming, soil science, nursing, junior welding, theatre, cheerleading and more.
To sign up or see a class schedule, click here.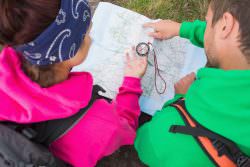 SLA classes are designed with curiosity and creativity in mind — letting students develop talents and encourage exploration and personal growth.
"We have the opportunity to offer these classes at no cost to families to enrich children within the communities we serve," said ECC President Dr. Jon Bauer. "Any chance we have to provide a service like this to our community fits well with our mission."
Students or parents will be asked to prioritize their interests while registering. After registering for three courses, they will be placed on a waiting list if they choose to sign up for a fourth course. Participants can register for a maximum of four classes.
For more information, people may email Pam.Kaiser@eastcentral.edu or call 636-649-5803.