EMS Program Director Receives Emerson Excellence Award
East Central College EMS Program Director Jenifer Goodson incorporates innovation and technology to fully prepare EMT and paramedic students to serve their communities.
That's just one reason of why Goodson is being recognized with the 2022 Emerson Excellence in Teaching award.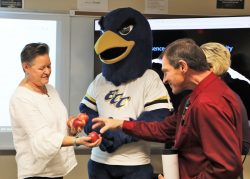 "She is extremely devoted to her EMT and paramedic students and their academic success," said one ECC employee who nominated Goodson.
The Excellence in Teaching Awards program, sponsored by Emerson, annually recognizes educators in the St. Louis metropolitan area who are examples of excellence in their field. Recipients are selected by the chief administrators of their school districts or employing educational institutions.
Goodson has been an instructor at ECC for six years. She was named the EMS Program Director earlier this year. Since then, she has introduced computer adaptive testing and clinical documentation/tracking software to her program to better prepare and assess students in the program.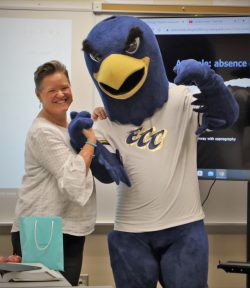 "Jenifer works tirelessly to create engaging learning experiences to build better connections between the theory material and what the student will need to know for both field experience and national licensure testing," her nominator wrote.
Goodson has expanded the EMT/paramedic program to ECC's Rolla location where she
utilizes technology to capture her students at both ECC in Union and Rolla synchronously for lecture, but she also travels between the two locations regularly, so she can engage with all students one-on-one.
In addition, Goodson is leading a redesign of the curriculum between the EMT and paramedic courses to allow for ease of progression from one program and course to the next.
"She is her student's biggest cheerleader and mentor as they study and prepare for their state and national licensure exams," the nominator said. "Jenifer is a tremendous asset to ECC and community. She deserves to be recognized for her outstanding effort educating and preparing new first responders to serve our communities for future decades."