Former ECC Student Follows Path to Pharmacy Industry
Attending classes at East Central College made a lot of sense to Dr. Sandy Mitchell, owner of Medley Pharmacy, Inc. and Sinks Pharmacy.
After Mitchell earned a doctorate in pharmacy, she returned to where her passion for the industry began and today, she owns 14 pharmacies in seven counties .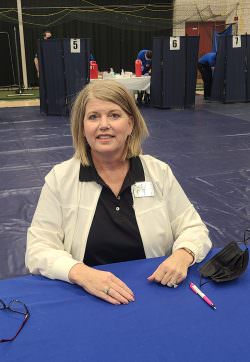 Mitchell, an Owensville High School graduate, attended ECC from 1985 to 1987 before transferring to St. Louis College of Pharmacy.
She used a Junior Miss Pageant Scholarship she earned while at OHS to help pay for classes at ECC.
"It was an easy decision to come to ECC," Mitchell said. "It was close to home and affordable — It worked out really well."
"I thoroughly enjoyed East Central. it was a great steppingstone, not only financially, but academically," she added. "I had exemplary professors who prepared me for the (St. Louis) College of Pharmacy.
"I didn't lack anything when I transferred, and I will always be proud of ECC."
She explained that a counselor at OHS helped her get a job a Medley Pharmacy, Owensville, in 1984 during weekends and over summer breaks from school. That job sparked a love of pharmacy and working with people.
"In college, I was on a premed path, but I always knew I would go into pharmacy,' Mitchell said. "I really enjoyed it. I really liked working with the public and I liked the medical side of it.
"I found out later that I really loved the business side too," she added.
Mitchell graduated with a Bachelor of Science degree from St. Louis College of Pharmacy in 1990. The fondness for her hometown pharmacy led Mitchell back there after she graduated.
While working at the pharmacy, Mitchell earned received her Doctor of Pharmacy degree from the University of Arkansas for Medical Sciences.
In 2005, Mitchell purchased the Owensville shop, and three other Medley Pharmacy stores, from the wife of the late Dr. Sinks.
That was a major step in Mitchell's plan to entrepreneur and pharmacy owner, and she later added 10 more facilities to the Medley Pharmacy, Inc. family.
Vaccinating the Community
Over the past several months, Mitchell and Sinks Pharmacy/Medley Pharmacy have been in the public assisting many in the region become vaccinated.
That includes many ECC employees who were given the vaccine at an event on campus.
"We believe we are here to serve and care for our communities," Mitchell said.
Once vaccines became available to schoolteachers, Mitchell explained, Sinks Pharmacy staff began holding vaccination events in the areas where the 14 locations are.
"As more vaccinations became available, the state would send them to Sinks to administer shots to school districts in the St. Louis area," she said.
Mitchell noted that her staff has held vaccination clinics for area school districts, including Union, Sullivan, Washington and Owensville, and districts further away, such as Clayton and Parkway.
She added that the team of employees have managed large events and are able to handle large crowds quickly and seamlessly.
"The team has worked very hard to fine tune the process," Mitchell said. "We have ways to mitigate when several people come through the door at once, and people don't have to wait long."
She said that there have been enough large-scale vaccination clinics, her staff knows their roles and how to get people in and out the door safely.
For more information about the pharmacy, visit https://sinkspharmacy.com/. To learn about ECC and alumni, current students and more campus news, visit www.eastcentral.edu/.