From Homeschool to Honor Society, Siblings Learn Together
Belle area siblings Kya and Jace Nilges were homeschooled together, and now they are continuing their education together at East Central College in Rolla.
They both took time off after high school to work before enrolling at ECC. They decided to take the plunge and enroll in Fall of 2019.
The siblings agreed that attending ECC turned out being an easier transition than either of them thought.
"I was worried about coming to college, but it ended up being totally fine and I wished I had done it sooner," Kya explained.
"I was kind of worried I'd be out of my depth," Jace added. "I expected it to be much harder than it was."
Jace, who is 15 months older than Kya, said they both recognize the value of attending ECC because of the short drive from their hometown and the affordability of classes.
"We chose ECC for the proximity and the price. It's also a good stepping-stone in getting credits to transfer. It makes it a lot easier and more efficient," added Kya.
Kya plans on completing an associate degree in liberal studies, then she hopes to transfer to Stephen's College to pursue Fashion Communication or Communication Design. Jace is leaning toward an associate degree in Radiologic Technology through ECC and the Rolla Technical Center.
Students with Honors
The duo was invited into Phi Theta Kappa, the honor society for two-year colleges, based on their impressive GPAs. While neither one of them quite expected being inducted into an honor society, they both embraced the opportunity.
"I didn't really know much about Phi Theta Kappa (PTK) before I was sent the invitation," Jace said.
"It was kind of a surprise but then thought 'well yeah, this sounds good!' I'm glad I was invited."
Kya noted that she was aware of PTK but she did not expect to be part of the organization. They were inducted into PTK in November.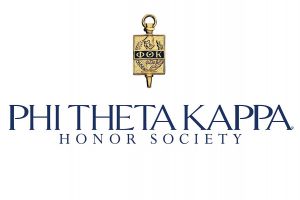 "It's really amazing to be a part of it," she said. "I did not expect this good of grades. We were both homeschooled so I had no idea what my grades would be like starting out — It was unpredictable."
They attribute part of their success to holding each other accountable in their schoolwork. Going to school with a sibling gives the opportunity of always having a study partner.
"It's nice to have someone built-in to study with. You always have someone there to talk it through with. A lot of other people don't have that," Kya commented.
They also attribute some of their success to having chosen ECC.
"Attending ECC has given me a lot more opportunities and I have become way more confident in myself." Kya said.
Jace had parting advice to those considering enrollment at ECC:
"Going to college seems scary but the scariest part is taking that first step. Once you're actually in school, it just becomes normal. You are more capable than you think you are."