From New Haven to Seoul — ECC Grad Follows a Dream
In 2016, while working toward a liberal studies degree at East Central College, Kjia Zuroweste had no idea that a few years later she'd be living and working more than 6,600 miles away.
But today, there is no place that Zuroweste would rather be than in Seoul, South Korea, her home for nearly two years.
Zuroweste graduated from ECC in 2017. She then earned a business administration degree in 2019 from Westminster College, in Fulton, Mo.
She is originally from New Haven and she is a graduate of Crosspoint Christian School, Villa Ridge.
Zuroweste explained that she had been interested in the culture and language of Korea for quite a while. When she was 20 years old, Zuroweste added, she challenged herself to learn seven languages by age 30.
"Why not start with Korean?" she asked.
Planning a Trip
A short time after she graduated from Westminster College, Zuroweste learned about a law school in Seoul. She already had been considering studying corporate law.
After learning about the school in 2019, Zuroweste and her mother embarked on a journey to visit the school in Seoul.
In the meantime, she needed work and began searching for an English as a Second Language (ESL) job, a position that would allow her to work in Korea.
Zuroweste met with a recruiter to help her locate and apply for ESL teaching opportunities in Korea, and she interviewed for an ESL position via Skype a short time before the trip to Korea with her mother.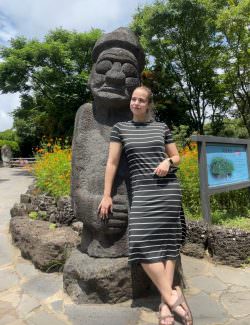 "The moment I landed, I fell in love with the country," she said. "I spent a few days on the east coast, which was absolutely beautiful, then I spent the rest of the time in Seoul."
Zuroweste said she fell in love with nearly every aspect of Seoul and knew she wanted to live there.
"Between the history, the food, and the seemingly unlimited number of things to do, I knew it was the place for me," she said.
As "fate" would have it, Seoul soon would be where she would live — the recruiter called Zuroweste while she was visiting Korea with her mother.
"I ended up receiving news that I got the job I interviewed for while on the subway back to my hostel and I was super excited to begin this new journey," Zuroweste added.
Moving to Korea
In February 2020, she moved to the Gangnam district of Seoul to teach kindergarten students — just before COVID-19 became a worldwide pandemic, shuttering businesses and schools.
"I was supposed to start teaching in March but due to COVID, I didn't start until May," Zuroweste said. "We went through several shutdowns all year."
Then, in February 2021 she moved to another academy where she taught mostly elementary and middle school students. The academy is in northern Seoul, right next to Bukhansan mountain.
Zuroweste rates her Korean language skills at an "intermediate level."
"I can read, write and listen well, but I struggle with speaking," she added. "Thankfully I have my friends and my boyfriend who are always willing to help."
According to Zuroweste, it has been a challenge to be a foreigner during a worldwide pandemic and there have been many restrictions — curfews, QR code check-ins, and masks.
"Foreigners often get blamed for spreading the virus around Korea, so a lot of times we get told things like 'go back to your country' or 'you don't belong here,'" she said.  "Overall, people tend to be kind."
Zuroweste noted that there are many things she misses about America, but a lot of reasons why she prefers living in Korea.
"Super affordable healthcare, reliable public transit, and incredible food are some of the things that have made my life here really enjoyable," she added.
Zuroweste said her boyfriend, Eddie Cheon, who is a competitive bodybuilder, and many friends were born in Korea.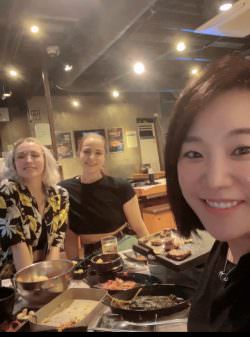 "My friends that have been helpful to me with the language are also Korean nationals," she commented.
Time at ECC
Zuroweste was very involved in the ECC community while she attended classes at the Union campus.
She was part of the Phi Theta Kappa (PTK) Honor Society, and she was president of the Chi Delta Chapter from 2016-2017. She won a few awards for being involved in the organization, she said.
Zuroweste also performed on the stage of the John Edson Anglin Performing Arts Center. She was in Book of Days and Shrek the Musical. In addition, she worked backstage and served as an usher during Theatre productions.
For a brief period, Zuroweste said, she also was part of the ECC Student Government Association.
"I really enjoyed my time at ECC — I was given so many opportunities and some of the connections I made have lasted to this day," she said. "I am thankful for my ECC experience and wouldn't change a thing."
What's Next?
Although visiting a law school was what first took Zuroweste to Korea, she doesn't plan to continue down that path, for now.
"I no longer plan to attend law school at this time," she said. "Since Covid, many things have changed."
Her career plans may have changed, but Zuroweste said she will stay in South Korea, adding that she'll likely work a remote job next year while still living there.
From New Haven to Seoul, Zuroweste's journey shows just how far — literally and figuratively —education, curiosity, and motivation can take someone.