Hays Receives Missouri Community College Association Alumni Award
East Central College Trustee and graduate Ina "Cookie" Hays received a Missouri Community College Association (MCCA) 2023 Distinguished Alumni Award.
Each year, the MCCA Annual Recognition and Excellence Awards program recognizes individuals and institutions that have set the standard of excellence during the year. The award recipients were announced during a banquet Thursday, Nov. 9, in Kansas City.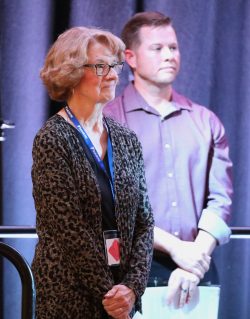 Hays' recognition comes on the heels of Hays receiving the ECC Outstanding Alumni Award presented in May by the ECC Foundation — the highest award presented to a graduate. It recognizes a graduate who has brought honor to the college through professional achievement, leadership, and community impact.
Hays was both a student and student employee when she graduated from ECC in 1973.  Since then, she has dedicated more than 50 years of service to the College as an employee and trustee. In fact, she is the only person to be a graduate, a support staff member, a professional staff member, an administrator, and a trustee at ECC.
Beginning at ECC
As part of an early graduating classes at ECC, Hays was initially taking classes in Union Memorial Auditorium before and then moving to the current campus to take courses.
After graduation, she began her professional career that would extend 41 years at ECC. Hays began as an administrative assistant, a role she served for 15 years. She then moved into the position of assistant to a vice president for a year.
In 1989, she became an academic advisor, a position she held for 9 years. Hays served as the interim director of counseling services for a year until she was appointed to that position, serving for another year.
Hays' next step at ECC was as the dean of student development, a role that she served in for eight years. Then, in 2009 she was named the vice president of student development. She retired from the College in 2014 while serving as the vice president of student development.
President's Remarks
"Cookie's involvement has included being a student, student-worker, classified staff, professional staff, administrator, and trustee," said Dr. Jon Bauer, college president. "Along the way she has impacted thousands of lives and fulfilled the dream the college's founders had in mind when East Central College was established in 1968. Our college and community are better because of Cookie's service and leadership."
Hays collaborated with every department on the Union campus and at the College extension sites. Her position at ECC took her to every high school district throughout the service region.
"I loved working with the faculty and staff, but my greatest reward came from working one-on-one with the students, where I grew to understand what they need and expect from their community college," she said.
While employed at ECC, Hays earned a Bachelor of Science degree in Business Management from Maryville University, and then received a Master of Education in Counseling from the University of Missouri-St. Louis.
In 2016, two years after retiring from the College, Hays was elected to her first six-year term on the ECC Board of Trustees. She was re-elected in 2022 and serves as Board Secretary.