#InspiringExcellence – Local Artist Headlines Art Gallery Show
Jenn Brown and Sara Weininger, graduate students at Washington University, are bringing their art exhibit "In Between" to East Central College September 5-29. A reception with the artists will be held September 21 from 5 – 7 p.m.
"We are very excited to have these up and coming artists to our gallery," said Gallery Coordinator Jennifer Higerd. "Jenn Brown is from the area and a graduate of East Central College. It's always special to be able to showcase alumni work."
"East Central College was close to home and affordable," Brown said. "I actually became an art major by accident, and it changed my entire life.  I learned so much while I was there; it made me a better student and a better person.  I still consider the ECC art department my home."
Brown works mostly with metal. Her work for the "In Between" exhibit is self-described as "references to inner-body structure and physical representations of the toll it can take to shut others out."
Weininger, meanwhile, will focus on drawings and paintings.
"Drawing is both the source and structure for my present work. Awkward dreamlike perspectives are constructed through a physical building up of marks," explained Sara Weininger.
Both artists are excited to showcase their work at the East Central College Art Gallery. "It's something I've wanted to do for a long time," Brown said. "This is my first major show, so it only seems right that I go home to do it."
"In Between" will be displayed at the ECC Art Gallery, Hansen Hall, Room 121, 1964 Prairie Dell Road, Union.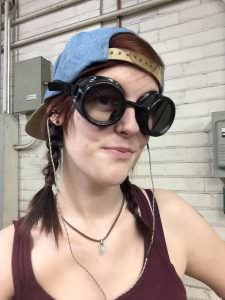 ECC Alumna Jenn Brown