Instructor Receives Emerson Excellence Award
For East Central College biology instructor Dr. Beth Winters-Rozema, it is the "light bulb" moments that brings her the greatest joy as a teacher.
"I really like watching the light bulb come on in students," she said. "Usually, I can tell when it happens — I hear it and I see it when they understand, and that's really nice."
Winters-Rozema is an instructor at ECC in Rolla. Her love and talent for teaching is obvious to her students, but it has been noticed outside the classroom, too.
She recently was recognized with the Emerson Excellence in Teaching award. Sponsored by Emerson, the award program recognizes more than 100 educators annually in the St. Louis area who are examples of excellence in their field.
Outside the classroom, Winters-Rozema serves as the faculty advisor to the Beta Omicron chapter of Phi Theta Kappa (PTK) Honor Society in Rolla.
During her time as the PTK advisor, the Rolla and Union honor society chapters have received national recognition for their recruitment efforts.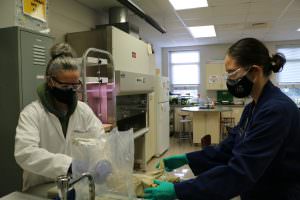 In addition, Winters-Rozema has seen members of the Beta Omicron Phi chapter win statewide academic recognition over the years.
According to colleagues, she is dedicated to assuring her students do their best inside and outside of the school setting, and she is particularly committed to making sure her students know how to communicate in professional settings.
Winters-Rozema is also dedicated to helping fellow faculty members perfect their craft. She is one of the first to volunteer when a call goes out to participate in a survey or pilot a project to improve instruction.
Overall, she is a well-respected instructor who is determined to see her students succeed.
The Excellence in Teaching ranges from kindergarten teachers to college professors who are considered great examples of excellence in their field.
Recipients are selected by administrators of the school district or educational institutions.