McDonald Receives Excellence Award
It was five years ago that Laura McDonald, MSN, RN started at East Central College as an adjunct instructor.
After just two years at the College, she became the Rolla Nursing Program Coordinator and began to oversee the day-to-day nursing program operations at the ECC Rolla campus.
McDonald recently was presented a National Institute for Staff and Organizational Development (NISOD) Excellence Award to recognize her as a role model in education, and showcase the excellent work she does for ECC.
"After only two years as a nursing instructor, Laura stepped into the role of program coordinator overseeing 50 plus program students in two nursing tracks and advising over 100 pre-nursing students," said the ECC representative who nominated McDonald.
She transitioned to a full-time nursing instructor after becoming a clinical adjunct instructor in 2015. McDonald then served as lead instructor while obtaining a masters degree in nursing education from Central Methodist University.
"Three short years ago she became program coordinator, with little experience, and she has done an excellent job leading and mentoring the nursing team in Rolla," McDonald's nominator said. "She has a remarkable work ethic and professional standards.
"Laura has done an outstanding job role modeling and developing new faculty members while upholding the program standards and policies, holding faculty and staff to professional standards to support and produce excellent nurses."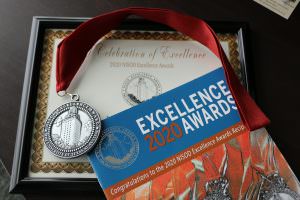 It was further stated that McDonald is an advocate for faculty and students.
"She truly cares about their successes and failures. Laura has been the glue that has held the Rolla campus together the last few years. She is an outstanding faculty member and nurse clinician."
Colleges that are members of NISOD can recognize employees through the Excellence Awards. The awards are presented to faculty and staff who are doing extraordinary work on their campuses.
Excellence Award recipients receives a unique silver medallion engraved with The University of Texas and NISOD insignias and are adorned with a burnt orange ribbon.
The overarching statement expressed through the award is that teaching and leading on the front lines of the community college mission rest on the shoulders of these outstanding individuals.