New Sound System Installed at Theatre
There is a new state-of-the-art sound system at the John Edson Anglin Performing Arts Center that will provide a better experience for those attending live shows at East Central College.
The sound system was installed by Innovative Solutions. Of Memphis, Tenn. ECC staff and faculty members already have trained on the new equipment.
According to Grace Austin, theatre program coordinator, the sound system will provide better clarity and a better listening experience for the audience members who attend musicals, choir and band performances, and other events at the Performing Arts Center.
"I think the biggest benefit to the system will be an even distribution of sound all around the theater," Austin said. "Previously, depending on what seat you sat in, you could have a totally different sound experience."
She added that patrons have noted the need for upgrades.
"Some of the biggest feedback we've gotten from patrons over the years has been that our sound quality was lacking, and we're so excited to bring it up to par with the high quality of the productions that we put on!" Austin said.
The previous sound system in the Theatre was about 20 years old and is no longer in Federal Communications Commission compliance. The $88,939.66 sound system was funded through ECC's Facilities Rental Budget, which must be spent on the maintenance and upgrade of facilities.
The new equipment includes several speakers, a portable system, a digital sound mixing console and wireless microphones.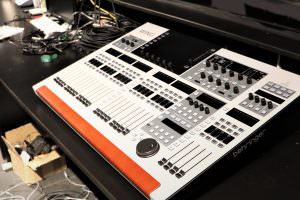 Sylvia Sellers, Performing Arts Center manager, said the new console has digital interfacing with a 10-inch touch screen.
"This is a flagship sound mixing console, which will greatly improve the quality of events in the Performing Arts Center and offer students the opportunity to learn and train on industry standard equipment," she said.
Sellers noted that the upgrades also include a digital wireless body-pack microphone system and new wireless handhelds microphones with a high-powered antenna for the best sound performance.
"This will produce a clearer, high-quality sound with better control through the new console," she added. "The newly installed speaker system has increased sound output and quality that is designed to be experienced at the same level from every seat in the house."
In addition to Theatre Department productions that will benefit from the new sound system, the ECC Music Department also is excited for the upgrades, according to Aaron Bounds, director of bands/music instructor.
"The new sound system helps our music department in many ways including; performing ensembles for ECC students, professional sound for our Patrons of the Arts events, and quality recording options for our community music festivals, such as the MSHSAA Large Ensemble Festival and our Jazz Clinic," he said.
"In all, this system will serve dozens of professional performances and hundreds of local students yearly with cutting edge technology and a superb sound. I can't tell you how excited I am for that first downbeat with this system!"