NISOD Excellence Awards Presented to ECC Employees
Three East Central College employees are being recognized for their dedication to students, the College and their coworkers with 2023 NISOD (National Institute for Staff and Organizational Development) Excellence Awards.
The ECC award recipients are Stacy Bellville, administrative assistant for the vice president of academic affairs; Jennifer Higerd, assistant professor of art and the Art Gallery curator; and Alice Whalen, director of adult education and literacy.
NISOD is a professional development provider that offers programs and resources for community and technical colleges. Member colleges can recognize employees through the Excellence Awards, which are presented to faculty and staff who are doing extraordinary work on their campuses.
Award recipients receive a unique silver medallion engraved with The University of Texas and NISOD insignias and adorned with a burnt orange ribbon. NISOD is based out of the University of Texas in Austin.
Stacy Bellville
Bellville has worked in many different offices within academic affairs, and in each case, she has approached her work with professionalism, enthusiasm, passion and humor.
"She embodies the College's value of service every day. She is always ready to answer questions and deals patiently with her colleagues," Bellville's nomination reads. "Stacy is invaluable in helping with assessment activities. She also serves with diligence, integrity, and thoroughness as the recorder for collective bargaining sessions.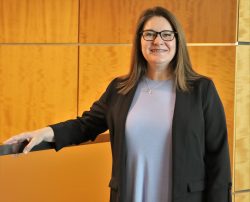 "Her enthusiasm and dedication to ECC go beyond her work as an administrative assistant."
Bellville has represented the ECC Classified Staff in various capacities for many years, bringing that same passion to helping organize an array campus events from in-service activities to holiday parties and everything in-between. She reinforces a sense of collaboration among all employees.
"Stacy is the go-to person for many, not just for her knowledge of the inner workings of the college and her competence, but for her encouragement and support."
Jennifer Higerd
Higerd has been a valued faculty member for 12 years, serving as an advocate and mentor for art students. In her role as Art Gallery Curator, she exposes students and the ECC community to master artists of various media from all over the country.
She serves ECC through her commitment to assessment. As one of the three faculty chairs of the Instructional Assessment Committee, she has made Annual Assessment Reporting and Planning (AARP) a priority.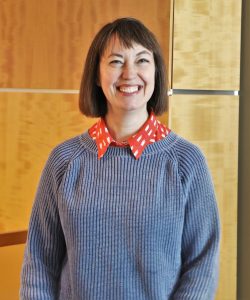 "Jenn's commitment to ECC was showcased when she served as one of the tri-chairs for the Higher Learning Commission comprehensive evaluation visit," Higerd's nomination states. "In this role, she was instrumental in preparing faculty and staff for the site visit and in writing the assurance argument. Her hard work helped guide ECC to a successful re-accreditation."
Whether it is creating professional development opportunities, meeting with faculty and staff regularly — one example is her monthly meeting with arts and sciences' dean, department chairs and coordinators — or co-leading ECC faculty and staff through the first comprehensive review of general education, her passion for assessment is inspirational.
Alice Whalen
Whalen has served as the AEL program director since 2014. Alice has expanded the program from offering AEL programming in six communities in 2014 to 13 communities throughout the ECC service region today. The AEL program offers day and evening HiSET classes and English language acquisition courses, serving an average of 300 individuals per year.
She developed a program with WEG Transformers, Washington, to provide over 30 non-native English-speaking employees with classes to enhance their language skills. In 2015, under her leadership and direction, Whalen worked with the South Central Missouri Literacy Council in Phelps Country to add four counties, Crawford, Gasconade, Franklin and Montgomery, to create the East Central Literacy Council. The Council supports the ECC AEL program and raises funds to cover additional AEL student expenses.
Whalen is the AEL representative for the Missouri Association for Workforce Development (MAWD) as the Adult Education and Literacy representative and serves as a MAWD board member, as the Public Information chair. In 2022, she presented at the MAWD conference and the Missouri Association for Adult Continuing and Community Education conference about the effects of poverty on students titled "Poverty from an Insider's Perspective."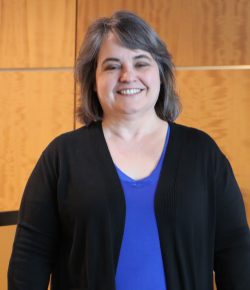 "As ECC focuses its attention on adult learners, Alice is the co-chair of a committee to design a process map for AEL students to matriculate into college programming," her nomination reads.
"Alice knows the importance of community involvement and understands how multiple barriers effect a student's ability to start and complete their education. Alice's positive energy at the college and throughout the ECC service region is contagious, as she strives to make sure anyone who wants to enhance their lives through education, can do so."