Nursing Student Changing Her Future
Elisha Griffith knew that one day she would become a nurse. In March 2018, she took the first step toward that goal at East Central College.
Griffith enrolled in a new partnership through the college's Health Careers Workforce and the Adult Education and Literacy (AEL) program.
It was through this partnership that the Union resident could prepare for the High School Equivalency Test (HISET) and work toward her Certified Nurse Assistant (CNA) certificate.
She took the HISET prep courses through AEL at the same time she was enrolled in CNA courses, which allowed her to enter the nursing program earlier than she had expected.
"I always knew that I would go into the nursing field and I didn't have any excuse this time not go back to school," Griffith said. "I decided that being a professional waitress was not enough for me."
Griffith added that she knew it was time to seize the opportunity — for herself and her children who range in age from 2 to 13.
"I wanted to make sure we would never struggle," Griffith said. "I am trying to make a great life for these kids. That is my goal."
The hybrid program is designed to prepare nurses to care for clients in long-term care facilities, hospitals and home health agencies. It consists of 75 hours of classroom training and 100 hours of supervised clinical training. It also includes 100 hours preparation for the high school equivalency exam.
Griffith completed the CNA program in July 2018 and passed the HISET, on her first try, in August 2018.
The AEL staff, she said, helped her every step of the way, adding that Betsy Williams, AEL instructor; Terri Warmack, Health Careers Workforce coordinator; and Alice Whalen, AEL director, were great instructors and mentors.
She also was named to the 2019 National Adult Education Honor Society, which measures dependability, work ethic and attitude along with grades.
"I may have started late but I am determined, and I have been going strong every since," Griffith said.
Soon after completing the CNA program, Griffith began working at St. Clair Nursing Center where she takes care of residents and assists with daily activities. A new career that she loves.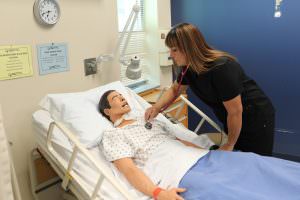 Continuing Education
But Griffith didn't stop her education with a CNA certificate. Soon after completing the program at ECC, she enrolled in the Four Rivers Career Center Licensed Practical Nurse (LPN) program.
She said it was an intense two-year program, but she persevered and took the completion exam July 9.
Griffith still is awaiting the results of the LPN exam before she can enroll in the LPN to RN (Registered Nurse) Bridge program at ECC Rolla.
The Bridge program leads to an Associate of Applied Science degree in nursing.
It is designed for licensed practicing nurses to complete the RN classes in a format that specifically meets their schedules, including evening and every-other-weekend formats.
Griffith said she still needs a few prerequisites for the Bridge program, but she enjoys the coursework and she is ready to continue learning.
In addition to forging her own future, Griffith also recruited a cousin to the AEL/CNA program.
"She wants to get into the health field, so I got her in touch with Betsy (Williams)," she commented. "Now I will encourage and support her."
Programs
According to Whalen, the AEL/CNA partnership program is offered on a case-by-case basis, depending on interest. She added that students must be at least 18 years of age at the start of the program.
To learn more about ECC's CNA program people may call Warmack at 636-584-6531, or email Terri.Warmack@EastCentral.edu.
To learn about the AEL program and the HISET prep exam, visit www.eastcentral.edu/ael or call 636-584-6533.
For more information about ECC's nursing programs, including the LPN to RN Bridge, visit https://www.eastcentral.edu/allied-health/nursing/.