Pulles is NISOD Excellence Award Recipient
Keith Pulles, East Central College biology instructor, is a dedicated and passionate educator.
That's just one reason that he is a recipient of a 2020 NISOD (National Institute for Staff and Organizational Development) Excellence Award.
The award is presented to college employees who do extraordinary work on campus.
According to a colleague who nominated Pulles for the award, he exhibits great passion for student learning.
"He embodies hard work, knowledge, and most importantly, passion in his work with students," the nominator stated. "He is a dedicated educator who has developed an excellent rapport with his students."
Pulles is the Chair of the Curriculum Council at ECC and he is leading the "Guided Pathways" model in regard to instructional excellence.
"His ability to champion change in best practices and models of teaching and learning is admirable," Pulles' colleague said. "He is quickly making his efforts known as an emerging leader on campus."
His hard work and leaderships extend from the classroom to other areas of the institution.
"He was eager to serve on a committee and asked to be appointed as soon as a role became available. His willingness to serve shows his overall commitment to the college, his students, and the community," his colleague said.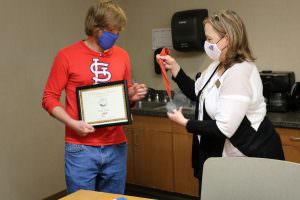 Colleges that are members of NISOD can recognize employees through the Excellence Awards. The awards are presented to faculty and staff who are doing extraordinary work on their campuses.
Excellence Award recipients receives a unique silver medallion engraved with The University of Texas and NISOD insignias and are adorned with a burnt orange ribbon.
The overarching statement expressed through the award is that teaching and leading on the front lines of the community college mission rest on the shoulders of these outstanding individuals.