Rolla Students Awarded for Academic Success, Leadership and Excellence
East Central College Rolla students were recognized for their academic excellence, perseverance, and contributions to a culture of student success, both in and out of the classroom.
The Office of Campus Life and Leadership and the Rolla Engagement Council recently held the annual Student Achievement Night ceremony to award these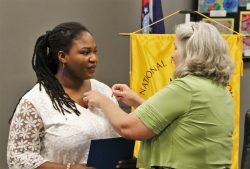 students for their accomplishments.
Outstanding Student Leaders
Bryan Lambeth and Elise Jeffers were named Outstanding Student Leaders for Spring 2023. Lambeth was nominated by Joannie Blakely, Nursing program coordinator in Rolla and the advisor for the Rolla Student Nurse Organization.
Jeffers was nominated by Dr. Beth Rozema, Biology faculty member and the advisor for the Beta Omicron Phi chapter of Phi Theta Kappa.
Collaborative Excellence
Mary Romine and Briannah Tiarks were selected as the recipients of the Collaborative Excellence Award, which highlights student leaders whose collaborative spirits prove essential to the success of the club and the maintenance of an encouraging environment.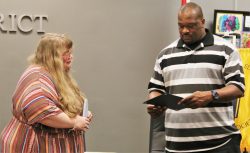 Romine was nominated by Blakely and Tiarks was nominated by Rozema.
Club Officer Awards
These awards are given to student leaders to recognize their contributions as stewards of student engagement on campus. Students are nominated by their club.
The following students were nominated for their service as club officers:
Kelsea Smith, Student Government Association President
Briannah Tiarks, Student Government Association Vice President
Alaina Sy, Student Government Association Public Relations Officer
Jessica Cook, Student Government Association Chief Recording Officer
Elise Jeffers, Phi Theta Kappa President, Beta Omicron Phi Chapter
Alicia Ramirez, Phi Theta Kappa Vice President, Beta Omicron Phi Chapter
Kelsea Smith, Phi Theta Kappa Public Relations Secretary, Beta Omicron Phi Chapter
Mary Romine, Phi Theta Kappa Recording Secretary, Beta Omicron Phi Chapter
Academic Distinction
Awards of academic distinction are given to students in recognition of academic excellence. Though these students will likely have a high mark in the gradebook, a student chosen for this award should also demonstrate an understanding of the course material, be an active participant in class, and contribute to the larger culture of succeeding and high-level thinking in the classroom.
The following Rolla students were given awards for academic distinction:
Kelsea Smith, Nursing
Logan Metzen, English
Lindsey Nichols, English
Madison Brown, Radiologic Technology
Makayla Mullins, Radiologic Technology
Shelby Henson, Radiologic Technology
George Bacon, Human Anatomy & Physiology
Roger Crossgrove, Human Anatomy & Physiology I & II
Jessica Cook, Introduction to Human Anatomy & Physiology
Spirited Falcon
Spirited Falcon awards are presented to students to recognize perseverance, a consistent willingness to learn and improve, and measured improvement. This award is designed to honor students who, despite any obstacles they may face during their semester, demonstrated a continued commitment to their education and success as a student.
The following Rolla students were given Spirited Falcon awards:
Avery Akers, Nursing
Dennis Robinson, English Composition
Laura Wyatt, Radiologic Technology
Amber Collins, Radiologic Technology
Outstanding Student Organization
The Office of Campus Life and Leadership selected the first-ever recipient of the Outstanding Student Organization, the Rolla Student Government Association. Their active group of officers, along with advisor Tracy Mowery, have reactivated this organization and its contribution to the student experience.
NAE Honor Society
Adult Education and Literacy students who were recently inducted into the National Adult Education Honor Society were honored at Student Achievement Night.
The following students were inducted into NAEHS: