St. Clair High School, ECC Manufacturing Partnership Grows
A partnership between East Central College and St. Clair High School has grown this year, building on its success from last year.
The SCHS Project Lead The Way (PLTW) has 12 students enrolled this year, which is up eight from the 2020-21 academic year.
PLTW is a national nonprofit that offers hands-on computer science, engineering and biomedical science instruction. Through the partnership between SCHS and ECC, students utilize industrial precision machines and software at ECC's Business and Industry Center (BIC).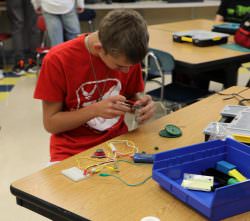 The partnership with the college officially began last year when Maurice Gritzman, PLTW engineering teacher at SCHS, brought students to the BIC labs.
In addition to utilizing equipment and technology that is unavailable at the high school, the SCHS students also earned dual credit for the courses taken through PLTW, according to Megen Strubberg, director of early college and admissions.
The seed of the relationship between ECC and SCHS was planted three years ago when Gritzman first met Dr. Richard Hudanick, dean of the Career and Technical Education Department, at a Manufacturing Days event at the college.
"The collaboration has been a success since the start – for St. Clair and their students," Hudanick said. "Maurice seemed very knowledgeable, and he really talked up the labs to his students.
It was during the conversation at the Manufacturing Days that Hudanick told Gritzman, "Our labs are your labs."
Program's Success
Three of the four students who enrolled in the program last year are now ECC students, Hudanick added.
"Last year, the PLTW class began as 12 students but COVID changed plans for many," Gritzman commented. "In the end three PLTW are now ECC students — two enrolled in the STEM program and the third enrolled in the NIMS-based precision machining program"
ECC's facilities were made available to the students to learn industry recognizable design software, mill their designs using commercial Computer Numerical Control (CNC) capital equipment and gain programming experience using Mitsubishi robots for robotic applications, such as pick and place manufacturing operations, Gritzman explained.
"Overall, the past year was a success," Hudanick said. "Maurice's main efforts were focused on sustaining the ECC relationship and growth of technology education courses for high school students.
"He wants this to be the template for all St Clair High School Engineering programs sharing ECC facilities for student learning using industry tools for design and manufacturing. He has nothing but the highest regards for ECC and St. Clair."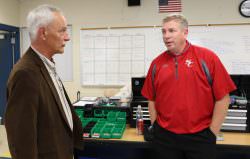 According to Gritzman, he would like to establish a sustainable partnership with ECC to grow a "Technology Education" track for high school students.
Technology Education would offer specialty PLTW engineering courses, such as Computer Integrated Manufacturing (CIM), that leverage the access to industrial precision machines and software available at ECC.
Gritzman added that the future could include additional courses for SCHS students at ECC, including Industrial Engineering Technology and Precision Machining.
"Expansion into diverse technical education channels with ECC provides broader options for technology careers for St Clair's engineering and technology students," Gritzman stated.
Last year, SCHS students were engaged in the precision machining facility lab-sharing project and earned six dual credit hours in ECC's Introduction to Manufacturing and Solidworks courses.
Future dual credit opportunities in other technical courses also are being explored.
Soft Swing Technologies
Gritzman noted that this year, the SCHS students will be working with a local company, Soft Swing Technologies, to "validate a new design and recommend market entry and manufacturing strategies."
"All of the students will receive industry recognized soft-skills training to meet industry hiring goals and expectations," he said.
At this point there is no other known collaborative PLTW program partnership between a community college and a high school.  This is both a strength to the stakeholder partnership and an opportunity to build credit hours, Gritzman said.
"There really is not any partnership like this that we are aware of– it's just simply exciting," added Hudanick.