Student Athletes Recognized Within Region 16
Several East Central College student athletes were recognized for their talent within the National Junior College Athletic Association Region 16.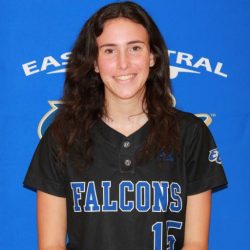 Taylor Hanger, Pacific, a pitcher in her second year at ECC was named to the all-region first team.
Hanger led the Falcons throughout the regular season and into the post season, playing the last 12 games of the season with a slight fracture in her glove hand. She even pitched some of her best games with the injury, according to Dr. Jay Mehrhoff, ECC athletic director.
"It was difficult for her to swing the bat, but the coaches in NJCAA Region 16 noticed her talent and named her first-team all-region," he said.
Hanger, a nursing major from Pacific High School, was an NJCAA Academic All-American and the ECC Female Scholar Athlete Scholar Athlete her freshman year at ECC.
"Hanger has had a tough balance in her last semester but has managed to be successful in all aspects of being a student athlete at the intercollegiate level," Mehrhoff added.
She ended the regular season with a 12-8 record striking out 77 batters. Her grit and determination were not always evident as she would be all business when she was in the circle pitching for the Falcons.
Region Player of the Year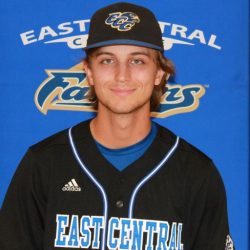 ECC Baseball Falcon Shane Kearbey, O'Fallon, Mo., was named the Region Player of the Year by the NJCAA Region 16 DII coaches' vote. Kearbey, a left-handed pitcher, had a fantastic regular season going 5-1, pitching 61.1 innings and striking out 68 batters with a 2.39 ERA, Mehrhoff said.
Kearbey graduated from ECC May 13 with an Associate of Arts degree in Business. He graduated from Francis Howell High School in 2021.
Rounding out the first team all-region selections for the Falcons were two outfielders, Luciano Terilli, and Trey Orman.
"Terilli gave opposing batters nightmares with his good glove patrolling center field making spectacular plays," Mehrhoff said. "His at the plate and defensive approach to the game made him an all-around player.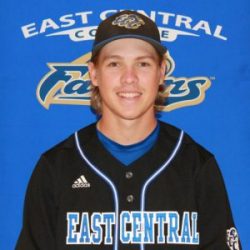 "Orman had his best season in college leading the Falcons in doubles with 12 and hit 4 home runs driving in 24 runs on the year," he added.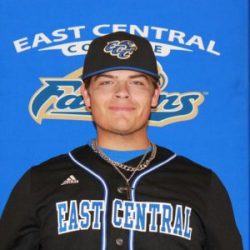 The NJCAA Region 16 DII All-Defense team included Terilli along with Cameron Leach and Andy Hueste. Leach was a formidable outfielder with his glove and led the team with 22 stolen bases.
Hueste was injured early in the season but found his glove and bat heating up at the end of the season with 24 hits and some great plays from second base and shortstop positions.
ECC selections to second-team all-region were Seth Shannon (.341 batting average), DeVon Jennings (5 home runs), Mario Colombo (.316 batting average), Will DesHotels (2-2, 44 strikeouts), Billy Underwood (2.69 ERA), and Hayden Steelman. All six were starters and contributed to the team's success throughout the season, both at the plate and from the mound.