Student Winner in National Essay Contest
East Central College chemistry major Jennifer Harrell said the inspiration and encouragement from a faculty member played a significant role in why she will graduate from ECC this May with honors.
Harrell was named a winner of the 2020 Scott Wright Student Essay Contest from the National Institute for Staff and Organizational Development (NISOD).
Her essay From Uncertain to Unstoppable tells how ECC's Dr. Matthew Monzyk, associate professor of chemistry, inspired, challenged and encouraged her.
There were three winners of the essay contest that was open to students attending NISOD-member colleges throughout the United States.
Students were asked to describe a faculty member, staff member or administrator who encouraged him or her to complete a course, finish a semester, or graduate from college. The students then described how that encouragement helped him or her reach that goal.
"Without Dr. Monzyk's belief and encouragement, I would not be graduating with honors this May and continuing to pursue my dream," Harrell wrote.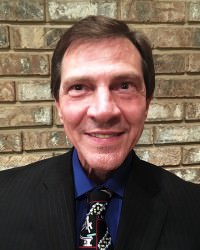 Harrell is transferring in the fall to Missouri S&T in Rolla to work toward a bachelor of science degree in chemistry, with a focus in biochemistry.  She already has been admitted to the Missouri S&T Honors Program.
"My end goal is to work in pharmaceutical research to focus on new drug development for psychotropic medications to mitigate the side effects that accompany the current mental health medications on the market," Harrell said.
The winning students, as well as the featured employees, each receive $1,000. The winning student essays are published on NISOD's website, and each winning student's college receives a complimentary 2020-2021 NISOD membership.
View Harrell's essay here: www.nisod.org/2020-student-essay-winner-jennifer-harrell/.
"Each year NISOD looks forward to awarding students who take the time to thank someone who helped them reach their goal," said Edward J. Leach, NISOD's executive director. "Each student who entered the contest is to be congratulated, as are the individuals at our member colleges who continually make a positive difference in the lives of their students."
The Scott Wright Student Essay Contest is held each year and honors the memory of Wright, past editor of Community College Week and winner of the 1998 Award for Excellence in Higher Education Journalism.
Wright's reporting focused national attention on developmental education and the unique open access mission of community colleges.
About NISOD
NISOD provides budget-friendly, high-quality, and faculty-focused programs and resources for community and technical colleges that want to make the most of their professional development dollars.
For over 40 years, NISOD has aligned a wide array of benefits with the needs of our members, which explains why the American Association of Community Colleges named NISOD, "The country's leading provider of professional development for community college faculty, staff, and administrators."