Students Praise ECC Apprenticeship Program During National Apprenticeship Week
The students enrolled in the Industrial Maintenance Specialization apprenticeship course at East Central College in Rolla have nothing but great things to say about their experience.
"I'm glad ECC does this. It's nice having the equipment here to physically work on instead of just listening to someone talk about it," said student Brandon Iske.
An apprenticeship is on-the-job training with job-related instruction intended to develop new skills and to increase employee wages.
"This apprenticeship program is for those in manufacturing who are looking to progress. Our students learn the skills and knowledge necessary for promotion," Duane Clonts, Industrial Engineering Technology instructor, explained. "One of my students started as a lineman, and after taking last semester's classes, he was promoted and is now in maintenance."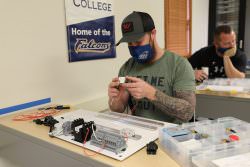 ECC Rolla employees are working with Royal Canin, Rolla, and Cohen Architectural Woodworking, St. James, for this apprenticeship program. There are five students enrolled. The specialization takes two years to complete. These students started in January 2021 and are expected to complete the program in December 2022.
"A lot of what I have learned in this program has helped me in my job and will help me in the future," accounted student Gerald Pulliam.
The program's instructor has much to do with his student's success and high praise of the course.
"Duane is very knowledgeable. You wonder how he can keep all that knowledge in his head. It takes a special type of person to teach this class because you have to be so well rounded and know so much," explained Pulliam. "Duane is very smart and truly one of a kind. I would recommend him specifically because he is such a good teacher."
Iske had similar sentiments.
"He's really good. He's laid back, yet stern. If we need help, he will help us but won't just come out and say the answer. He guides us there," he added.
National Apprenticeship Week, Nov. 15-21, celebrates the programs devoted to people evolving their skills in the workplace through an "earn while you learn" model.
For more information on apprenticeships through East Central College, visit https://www.eastcentral.edu/cwd/registered-apprenticeships/.