Theatre Department to Perform 'Godspell' July 20-23
The East Central College Theatre Department will present its summer musical, "Godspell," Thursday, July 20, through Sunday, July 23.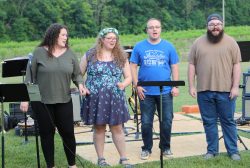 This fun-filled musical is a modern and contemporary retelling of the "Book of Matthew," and it is billed as a "celebration of music, mime, comedy and slapstick."
The show is directed by John Anglin with musical direction by Dean Emmert, choreography by Bethany Herron, and stage management by Emma Blaha.
Performances are July 20-22 at 7:30 p.m. and July 23 at 2 p.m. in the John Edson Anglin Performing Arts Center in Hansen Hall.
The talented cast includes CJ Satterfield (Jesus), Jeff Satterfield (John the Baptist/Judas), Stephen Casey (Jeffrey), Melissa Fyr (Robin), Sarah Hopp (Sonia), Bethany Herron (Gilmer), Ethan Mann (Lamar), Grace Sellers (Joanne), Crystal Smith (Peggy), and Andy Wanager (Herb).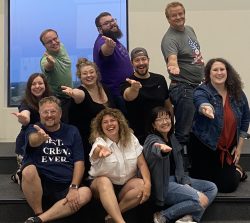 The musical was conceived and originally directed by John-Michael Tebelak with music and new lyrics by Stephen Schwartz. The production is licensed by Music Theatre International.
To order tickets, visit www.ecctheatre.com. For questions regarding tickets, contact the Box Office at 636-584-6693 or boxoffice@eastcentral.edu.