Work of ECC Art and Design Students on Display in Gallery
The work of East Central College art and design students is on display now in the ECC Art Gallery.
The annual showcase is an opportunity for the college staff, faculty, students and the community to see the works of ECC art students, according to Jennifer Higerd, assistant professor of art and gallery curator.
The show began April 20 and will run through May 4. A reception will be held April 28 from 5-7 p.m. in the Gallery.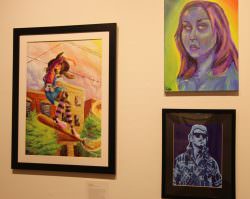 "The works in the show are chosen from numerous entries and they were selected because of the quality of the works and the ideas engaged in the work," Higerd said. "We invite everyone to come join us to celebrate the hard work and accomplishments of our students."
She added that the art faculty selected the works to be on display, and an outside judge – Michael Behle, artist and art professor at the university of Missouri-St. Louis – chose the best works in each category, as well as the Best in Show award.
The awards will be presented during the reception Thursday.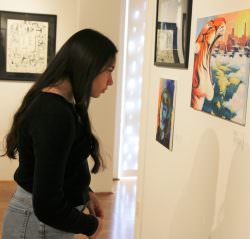 Students with work in the show are:
Abby Stanfield, Ash Dodson, Blake Rodgers, Bobby Claspill, Caleb Brinker, Carolyn Horst, Carter Hanse, Charity Reynolds, Chloe Eades, Emily Knoppe, Emma Brown, Emma Lombardino;
Joe McCary, Kimberlee Clements-Thompson, Kylee Perriman, Kylee Vawter, Lacy Buchanan, Madison Barbarick, Manny McQueen, Mary Bequette;
Megan Pritchard, Milo Guile, Miriam Bondor, Paige Pelster, Parker Williamson, Sage Sparkman, Sara Carter and Travis Gatlin.