Fast Track Grant
---
The 2023-2024 Application opens June 30, 2023
What Is The Fast Track Program?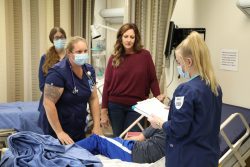 The Fast Track Workforce Incentive Grant is a program designed to provide adults with the education and skills needed to enter the workforce in fields that are in high demand.  Changes to the program made during the 2022 legislative session increase the number of eligible training providers and expand the program to include apprenticeships.
More than 635 program areas have been designated as eligible.
Who Is Eligible?
Individuals who are 25 or older or individuals who have not been enrolled in any school within the last two years can participate.
The program will serve students who have not yet earned a bachelor's degree and are planning to enroll part-time or full-time.
Individuals who make no more than $40,000 per year, filing single, or not more than $80,000 filing jointly.
Students enrolled in an eligible program at least half time.
How Do I Apply?
The application and program list for the grant are available through the State Student Financial Aid Portal.
You must complete the FAFSA each year you are enrolled (or are planning to enroll) in college. Individuals interested in receiving Fast Track for the 2023-2024 academic year will need to complete the 2023-2024 FAFSA, using tax information from 2021.
How Much Is The Grant Amount?
The Fast Track program is designed to ensure—when combined with other governmental financial aid—that tuition and fee costs are fully covered.
Awards will be for any remaining tuition and fee costs not covered by other state and federal student aid programs.
For individuals for which other aid covers the full tuition and fee costs, students are eligible for an award of up to $500 to cover other education-related expenses.
What Are The Grant Requirements?
This grant may be renewed by meeting all of the initial requirements and by making satisfactory progress, which includes maintaining at least a 2.5 cumulative grade point average.
Your eligibility expires when the earliest of the following occurs:

Receipt of the grant for four semesters or the equivalent
For an eligible student, four semesters means

Sixty (60) semester credit hours

Ninety (90) quarter credit hours

One thousand eight hundred (1,800) clock hours

For an eligible apprentice, you have up to forty-eight (48) months of eligibility

Receipt of a bachelor's degree
Reaching 200 percent of the academic time typically required to complete the program of study.
Learn more about the grant requirements, renewal requirements at the Department of Higher Education
Accounting
Associate of Arts in Teaching
Automotive Technology
Business
Certified Occupational Therapy Assistant
Certified Medication Technician
Certified Nursing Assistant
Child Development
Computer Information Systems
Culinary Arts
Early Childhood Development
Early Childhood Education
Emergency Medical Technician
Health Information Management
Heating, Ventilation, Air Conditioning & Refrigeration
Industrial Engineering Technology
Law Enforcement
Leadership Apprenticeship Development
Licensed Practical Nursing (LPN) Program
Medical Assistant
Medical Laboratory Technician
Nursing
Paramedic Technology
Precision Machining Technology
Radiologic Technology
Surgical Technology
Transfer Engineering
Welding
Who Do I Ask For Help?
We are here to help you! Email Kathy Luther at Kathy.Luther@eastcentral.edu or call 636-584-6571.