Fast Track Grant
---
What Is The Fast Track Program?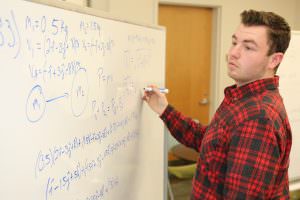 The Fast Track Workforce Incentive Grant is a new financial aid program for adults beginning with the 2019-20 academic year. The program addresses workforce needs by helping adults pursue a certificate, degree, or industry-recognized credential in an area designated as high need.
More than 635 program areas have been designated as eligible.
Who Is Eligible?
Individuals who are 25 or older or individuals who have not been enrolled in any school within the last two years can participate.
The program will serve students who have not yet earned a bachelor's degree and are planning to enroll part-time or full-time.
Individuals who make no more than $40,000 per year, filing single, or not more than $80,000 filing jointly.
How Do I Apply?
The application and program list for the grant are available through the State Student Financial Aid Portal.
You must complete the FAFSA each year you are enrolled (or are planning to enroll) in college. Individuals interested in receiving Fast Track for the 2022-2023 2019-20 academic year will need to complete the 2022-23 FAFSA, using tax information from 2019.
How Much Is The Grant Amount?
The Fast Track program is designed to ensure—when combined with other governmental financial aid—that tuition and fee costs are fully covered.
Awards will be for any remaining tuition and fee costs not covered by other state and federal student aid programs.
For individuals for which other aid covers the full tuition and fee costs, students are eligible for an award of up to $500 to cover other education-related expenses.
What Are The Grant Requirements?
This grant may be renewed by meeting all of the initial requirements and by making satisfactory progress, which includes maintaining at least a 2.5 cumulative grade point average.
The program requires that students graduate from an approved institution, maintain Missouri residency, achieve qualifying employment within 12 months of graduation, and maintain qualifying employment for at least three years.
One-third of the aggregate amount received through the Fast Track program will remain a grant for each year of residency and employment. If the recipient meets the residency and employment requirements for less than the full three years, any remaining balance will be converted to a loan and will be repayable with interest.
What Else Do I Need To Know?
Learn more about the grant requirements, renewal requirements at the Department of Higher Education
Is this a Grant or a Loan?
The Fast Track grant is not intended to be paid back to the state of Missouri. However, the student must do the following to avoid having the grant converted into a loan:
Maintain at least half-time enrollment in an eligible program until graduation.
Graduate from an approved institution.
Verify state residency for 12 months after graduation and maintain residency for at least 3 years.
Receive a job in a high-demand career within 12 months of graduation and maintain eligible employment for at least 3 years.
What Programs Are Eligible?
Accounting
Associate of Arts in Teaching
Automotive Technology
Business
Certified Occupational Therapy Assistant
Certified Medication Technician
Certified Nursing Assistant
Child Development
Computer Information Systems
Culinary Arts
Early Childhood Development
Early Childhood Education
Health Information Management
Heating, Ventilation, Air Conditioning & Refrigeration
Industrial Engineering Technology
Medical Assistant
Medical Laboratory Technician
Nursing
Paramedic Technology
Precision Machining Technology
Radiologic Technology
Transfer Engineering
Welding
Who Do I Ask For Help?
We are here to help you! Email Kathy Luther at Kathy.Luther@eastcentral.edu or call 636-584-6571.