About the President
---
Dr. Jon Bauer has served as the 6th president of East Central College since July 1, 2012.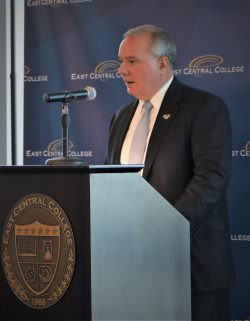 East Central College has experienced significant progress under Bauer's leadership. The College purchased and developed a $5 million Business and Industry Center to meet the workforce training and development demands at local businesses. ECC developed and adopted a 2014-20 Strategic Plan and initiated development of a new 10-year campus master plan. East Central also expanded the course and programs offerings in the Rolla area with the opening of a new facility in January 2014. The College has completed Program accreditation/re-accreditation in multiple academic disciplines and expanded the ECC Adult Education and Literacy program.
Bauer served as chair of the Missouri Community College Association from 2015-2017. He also served on boards and committees as Chair of  Mercy Hospital-Washington Board of Trustees, Mercy East Communities Board of Directors, Washington 353 Redevelopment Committee, Washington Civic Industrial Corporation, Washington Public Library Board and past President of Washington Area Chamber of Commerce. Dr. Bauer also served as a member of the Franklin County Area United Way, Franklin County Comprehensive Economic Development Strategy (CEDS) Committee, Union Highway 50 Committee.
Bauer started at East Central College in 1995 and has served in a variety of positions at the College. He served as the Vice President, Finance & Administration. Prior to that role he was Dean, Enrollment Management, Dean of the Rolla Campus, the Director of College Relations and the Director of Public Relations.
Bauer lives in Washington, Missouri, with his wife, Barb and their three children.