About the President
---
Dr. Jon Bauer serves as the sixth president of East Central College, a position he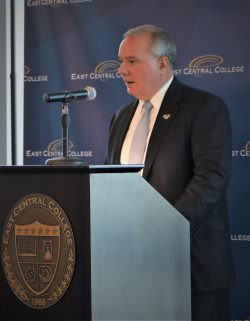 assumed in 2012. He is the college's second-longest serving president. 
Under Bauer's administration, East Central College has experienced significant growth and progress. Since 2012, the college developed the Business and Industry Center to meet the demands for workforce development, added programs in a range of health care fields, developed and implemented a new strategic plan, added the Falcon Career Center, expanded intercollegiate athletics, established the Early College Academy, implemented the Campus Connections program with the Missouri University of Science and Technology, opened a new facility in Rolla, and created partnerships with schools, colleges, and employers for the benefit of the region's students.  
Nationally, Bauer has focused his work on issues related to small and rural colleges. He serves on the board for the Rural Community College Alliance, on the American Association of Community Colleges Commission on Small and Rural Colleges, and as a peer reviewer for the Higher Learning Commission. 
He is a member and past chair of the Missouri Community College Association's Presidents and Chancellors Council, serves as legislative chair for MCCA, and is on the board for Mercy in St. Louis, Washington 353 Redevelopment Corporation, and Washington Civic Industrial Corporation. He is an ex officio member of the East Central College Foundation board of directors. He previously chaired the Mercy Washington hospital board, served on the Franklin County Area United Way board, was president of the Washington Area Chamber of Commerce board, and has served on numerous other civic organizations in the region. 
Bauer has served at East Central College since 1995. Prior to assuming the presidency, he was Vice President of Finance and Administration (Chief Financial Officer). While CFO, Bauer oversaw the voter-approved bond issue to add the Health Science Building and then administered the construction of the facility. He oversaw the total renovation of what is now George Buescher Hall.  Bauer previously served as dean in Rolla, Dean of Enrollment Management, Director of College Relations, and Director of Public Relations. He actively supports the ECC Foundation's Patrons of the Arts. He and his wife have established an endowed scholarship through the ECC Foundation. 
He holds a Ph.D. from the University of Missouri-St. Louis, with research focused on the factors influencing a student's choice of college. He holds a Master of Business Administration degree from Fontbonne University, St. Louis; Bachelor of Science from Southern Illinois University, Carbondale; and is a proud community college alumnus of Jefferson College, Hillsboro, MO, where he earned his Associate of Arts degree. 
Bauer and his wife, Barbara, reside in Washington. They have three children, two of whom graduated from East Central College, and one who is a senior in high school with plans to attend ECC.