Art & Design Student Exhibition Winners Announced
During a reception for the Annual East Central College Art & Design Student Exhibition, the Best of Show was presented to Manny McQueen for his Self Portrait.
That is in addition to several other Best in Category and Honorable Mention accolades presented at the exhibition reception held April 28 in the ECC Art Gallery.
The exhibit is a celebration of the culmination of the year's hard work, growth, and learning by the students, according to Jennifer Higerd, ECC art instructor and gallery coordinator.
This is the first reception that was held in person since 2019. For the artists, it is an opportunity for their parents, friends, and family to join the faculty to acknowledge and honor their hard work.
The Art & Design Exhibition showcases the work ECC students accomplished over the course of the academic year. The show closes Wednesday, May 4.
During the award presentations, Sean Barton, graphic design instructor, described that the class of freshman and sophomore students as a "powerhouse," due to the number of incredible artists in the ECC program.
Students may submit up to five works to be considered for the exhibition. The art faculty selected the works to be on display, and an outside judge – Michael Behle, artist and art professor at UMSL — chose the best works in each category as well as the Best in Show award.
Listed are the show winners and honorable mentions by category, and the names of the works:
Best of Show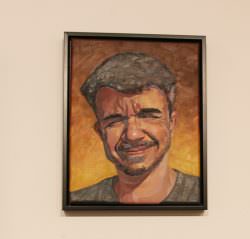 Manny McQueen – Self Portrait
Digital Design (Poster Design)
Honorable Mention – Caleb Brinker, Visit Rothyll travel poster
Best in Category – Parker Williamson, Labyrinth, have a cup of tea
Digital Design (Page Design)
Honorable Mention – Carolyn Horst, Gerard Way
Best in Category – Blake Rodgers, Critical
Digital Photography
Best in Category – Sage Sparkman, Delicate Daffodils
Graphic Design
Best in Category – Carter Hanse, Wild Advances
Photography
Honorable Mention – Miriam Bondor, Love With Your Life
Best in Category – Joseph McCary, Art School Jesus
Sculpture (3D Design, Ceramics)
Honorable Mention – Madison Barbarick, Humminghorse
Honorable Mention – Manny McQueen, Ugly Tiger
Best in Category – Carter Hanse, Treeli
Functional Ceramics
Best in Category – Manny McQueen, Sake Set
Painting
Honorable Mention – Kylee Vawter, Self Portrait
Best in Category – Emma Lombardino, Self Portrait
Drawing
Honorable Mention – Megan Pritchard, Colanders & Cones
Honorable Mention – Emily Knoppe, Arts n' Cats
Best in Category – Chloe Eades, Not your hole
Figure Drawing
Honorable Mention – Mary Bequette, Skellyman & the Patient
Honorable Mention – Emily Knoppe, Colorful Figure
Best in Category – Abby Stanfield, Female Figure
2D Design
Honorable Mention – Caleb Brinker, 200 Lines
Best in Category – Lacy Buchanan, Danny 5 Ways
Illustration
Honorable Mention – Emily Knoppe, Aerial Witchcraft
Honorable Mention – Ash Dodson, Vegan Pho Bowl
Honorable Mention – Travis Gatlin, The Harp
Best in Category – Sara Carter, Unreliable