ECC Students and Grads Recognized at MCCA, PTK Event
Four current East Central College students and two graduates were recognized for academics and leadership during the Missouri Community College Association (MCCA) Student Leadership and Phi Theta Kappa (PTK) Honor Society Awards Luncheon.
ECC students Donna Hall, Arica Doerr, Brooklyn Hyatt, and Brandon Morrow; and graduates Kya Nilges and Dora Bell, each were recognized during the April 28 event held at Stephens College in Columbia, Mo.
Hyatt, ECC Student Government Association vice president, was a recipient of an MCCA Student Leadership Award. These awards are presented annually to one exceptional leader from each community college.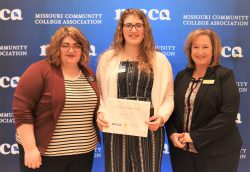 PTK Honor Society Awards
Each year the PTK Honor Society, along with participating corporate partners, sponsors the Academic All-USA competition for students attending two-year colleges.
PTK ranks applicants nationally, then forwards results to MCCA. The top 40 students statewide are then named Academic All-State award winners, with 10 first-team, 10 second-team, and 20 third-team winners.
Bell and Hall were both named to the All-Missouri Academic First-Team. Doerr and Morrow were named to the All-Missouri Academic Team Third-Team.
Bell also was recognized as a Phi Theta Kappa Coca-Cola Scholar, a distinction only given to students with the top 150 scores from across the country. Bell was a Bronze Scholar, and she received a $1,000 scholarship.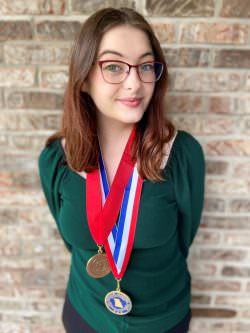 PTK All-Missouri Team
The PTK All-Missouri Team recognizes high-achieving two-year college students who demonstrate academic excellence, intellectual rigor, leadership, and service that extends their education beyond the classroom to benefit society.
Each of the students receives a cash scholarship from MCCA along with a medallion and certificate honoring their academic achievement.
There are two "competition" levels, one for transfer-track students and one for students who are in workforce preparation programs (AAS and certificate-level programs).  ECC is allowed to nominate up to two students for each pathway from both Union and Rolla.
To be eligible, students must have a minimum 3.5 GPA and be on track to graduate or complete their programs by the end of the fall semester. Students also are required to submit a lengthy application that involves writing essays and getting letters of recommendation to support their applications.