President Shares Joys of Community College on Twitter
Each day of Community College Month in April, East Central College President Dr. Jon Bauer wrote a tweet to share with his followers and the community what it is he loves about community colleges, and specifically ECC.
On April 1, Bauer launched a month-long Twitter campaign to give a glimpse of what is great about community colleges. Throughout April, he tweeted one reason daily in his "30 Days of Why I Love Community Colleges."
A positive community college tweet each day from the College leader never was an obstacle.
"The challenge was not how to come up with 30 different reasons to love community colleges," he said. "The challenge was what I would have to leave out."
The inaugural tweet recognizing Community College Month on April 1 was, "Students with passion!"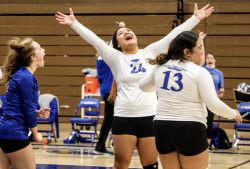 Each day he used the hashtag #CCMonth and tagged the American Association of Community Colleges (AACC) at @Comm_College; the Association of Community College Trustees (ACCT) at @CCTrustrees; and East Central College at @ECC_Falcon.
Community College Roots
This July 1 will mark a full decade that Bauer has been the president at ECC. He is the longest serving president of the College behind the founding president, Dr. Donald Shook.
Bauer started at ECC in 1995 and has served in a variety of positions at the College, including vice president of finance and administration, and multiple dean and director positions.
Bauer himself is a community college graduate as he noted on Day 26 in his "30 Days of Why I Love Community Colleges," when he mentions "New Students."
"These are wistful days, thinking of my own first day at #communitycollege."
In addition, in an editorial to local newspapers and online publication, Bauer wrote, "Community Colleges May Be Our Best Idea."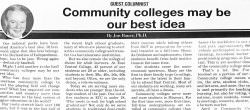 "As I reflect daily on another reason I love East Central specifically, and community colleges in general, I'm increasingly convinced we are more vital today than we were even two years ago. Our students and communities need us."
Although celebrating Community College Month started at the top at ECC, it didn't end there. The college recognized the month with a graphic on its digital sign at the main entrance of the Union campus, as well as social media posts using the #CCMonth hashtag.
When April neared its end, Bauer's month-long journey of what he loves about community college culminated with a photo — a selfie featuring himself and several ECC graduates on a previous commencement day.
"Commencement represents our core mission. Students come to us with a dream, and we help them realize that dream," he commented.
"Whether it's a degree, a skill, a job, or all of the above, our mission is helping them reach that goal. Commencement symbolizes that in a very visible way."