Board Approves Naming of Library to Honor Charter Trustee
The East Central College Library will be named to recognize the legacy — and memorialize — a charter trustee and his family.
During a Feb. 1 meeting, the ECC Board of Trustees voted unanimously to name the facility the Donald R. and Barbara D. Means Library.
Donald Means was a charter trustee, and his service goes back even further, according to ECC President Dr. Jon Bauer.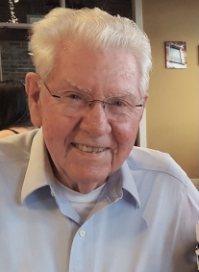 He noted that Means was one of several people who worked diligently to bring the college into existence in the 1960s.
Means served 24 years as an ECC Trustee from 1968 to 1992. He was board secretary from 1968 until 1984, and then served four years as president of the board. Means died in August 2020.
"Over many years on the board, he provided wise counsel and steadfast leadership to the college," Dr. Bauer said. "Naming of facilities is not something we have done often, but it is something we certainly want to do for individuals who contribute so significantly to the college — Mr. Means is certainly one of those individuals."
Dr. Bauer and ECC Foundation Executive Director Bridgette Kelch worked closely with Means' children to discuss a way for their father's service to ECC and the community to be recognized.
The library is in Buescher Hall, a building that Means would have overseen the construction of during his tenure as a trustee.
"Mr. Means was a veracious reader, so the library is a natural connection," Dr. Bauer noted.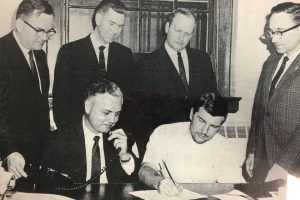 Family Members
Means' daughter, Charlotte Nordyke said her father was dedicated to ECC.
"Dad was so devoted to this school, learning and especially an institution for higher education in Franklin County," she said. "This is a great tribute to him, and we are indeed honored."
Doug Means noted that both of his parents committed a great deal of time and energy to ECC.
"I am very, very proud today and I thank the board for this consideration," he said. "My father spent a lot of blood, sweat and tears, along with my mother, at ECC."
Nordyke, Doug Means, Eric Means and Rhonda Lasley all attended the remote trustee meeting.
Next Steps
According to Dr. Bauer, ECC and the Foundation will plan for a ceremony at a later date, and signage will be installed.
He added that additional funds were gifted to the Foundation by family and friends of Means.
"There is more to come but this is a moment to pause and say, 'Thank you,'" Dr. Bauer commented.
"In a community that prides itself on civic leadership, one need not look further than Don Means for an exemplar. His life and career were marked by integrity and service."