Celebrating Health Care Partnerships During Nurses Week
East Central College has been educating nurses for 40 years — and since 1980 more than 1,000 nurses have earned degrees.
ECC has joined the American Nurses Association in celebrating 2020 as the "Year of the Nurse." In addition, May is National Nurses Month, and National Nurses Week is celebrated from May 6 to May 12, the 200th birthday of Florence Nightingale, a trailblazer in nursing.
According to ECC Vice President of Academic Affairs Robyn Walter, who is a registered nurse and holds a master's degree in nursing, those in the profession have proven how valuable nurses are during the COVID-19 pandemic.
"The past several weeks have demonstrated nursing adaptability and creativity at its finest during very challenging times," Walter said. "I am extremely proud of our nursing educators, students and graduates as they meet these challenges without a pause.
"Not only are nurses heroes of the pandemic, but also part of the casualties," she noted.
Partnerships
ECC has strong partnerships in the community with health care providers, including Mercy Hospital Washington, Missouri Baptist Sullivan Hospital and Phelps Health in Rolla.
Bethany Westlake, chief nursing officer at Mercy Hospital Washington, congratulated ECC nursing students in the Class of 2020.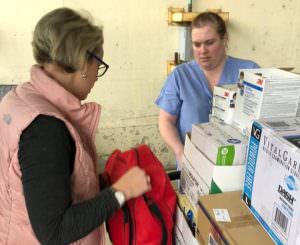 "Nursing has transformed throughout the years and has never been more in the forefront of healthcare than it is today, during this time of great need," she said. "We, at Mercy Washington, celebrate you as you have completed your studies and join the working profession.
"We are proud of you and the work you have completed. To those joining us at Mercy Washington to be part of the Sisters Legacy, we are so very blessed to have you join the team, and we look forward to watching you grow as a Mercy nurse," Westlake added.
According to Carmen Bartolotta, Missouri Baptist chief nursing officer and vice president of patient care services, the Sullivan hospital has served as a clinical site for ECC nursing students for more than 25 years.
"Our mission is to improve the health of the communities we serve — we feel that through this partnership with ECC, we obtain highly skilled and trained nurses to care for our communities," she commented.
For example, Bartolotta added the apprentice partnership with ECC has "transformed clinical learning by immersing second year nursing students in an 'earn as you learn' apprenticeship model of clinical education."
"This is a win-win for both entities by assisting students to successfully complete their nursing education, remove financial barriers for students and create a seamless transition to practice upon graduation, and a guaranteed consistent talent pipeline to MBSH," she said. "We truly enjoy working with ECC students and transitioning them into our workforce as nurses."
Keri Heavin, senior vice president and chief nursing officer at Phelps Health, noted that ECC has been a continued partner in health care in the Rolla area.
"East Central College is one of many excellent schools that we are pleased to partner with, and we are proud of the many ECC nursing graduates who choose to work at Phelps Health," she said.
Nursing Program
ECC offers two programs leading to an associate of applied science degree in nursing. This program prepares students to become registered nurses.
The main campus in Union, as well as the Rolla site, offers a complete pre-licensure program (generic) for those interested in becoming a registered nurse.
An LPN to RN Bridge program also is available at the Rolla location for LPNs interested in becoming registered nurses.
To learn more about the ECC Nursing and Allied Health program, visit https://www.eastcentral.edu/nursing/, or contact Mitchell at Nancy.Mitchell@eastcentral.edu.