ECC Grad Moves Up the Ranks After Earning Degree
For Dora Lafferty to move ahead in her career, she needed to continue her education and earn a degree.
That's why she turned to East Central College in the Fall 2012 semester to work toward a certificate and later an Associate's degree.
Lafferty is the plant manager at Quality Custom Molding (QCM), Linn, Mo. She has been employed with the company, which makes custom blow molding products, for 14 months.
The Washington resident earned a GED more than 20 years ago but never graduated from high school.
About six years ago, Lafferty was working at Pretium Packaging, Hermann, Mo., when moving up the ranks at the company had stalled.
"I had already been supervising but if I wanted to advance, then I needed a degree," she said. "And if I wanted to go anywhere else, then I would need more education.
"That's when I began back peddling to a degree."
Lafferty obtained a certificate on 2014, but it wasn't until she earned her Associate's degree in business management in 2016, graduating with honors, that she was promoted.
Earning an Associate of Applied Science degree allowed Lafferty to land the production manager position at Pretium.
"After graduation from ECC in 2016, it opened up new positions and different roles," she said. "I absolutely feel that I am better at my job because I continued my education."
Lafferty left Pretium in early 2019 to become the plant manager at QCM.
She added that career advancement was possible without a degree but it would take much longer to get where she is now.
Lafferty also was recognized in 2016 with the Achievement Award for Outstanding Performance in Business, and she was invited to serve on the Accounting and Business Advisory Committee at ECC.
Easy Transfer
Lafferty wasn't done continuing her education after ECC. She will graduate in May from Central Methodist University (CMU) with a degree in business management.
"I still need a bachelor's degree to get where I want to go," she said.
Through ECC's transfer degree program, Lafferty quickly and easily began taking courses toward a bachelor degree. CMU is located on the ECC campus in Union.
"While nearing the end of my journey at East Central, my last semester was not full, so I decided to start taking classes to obtain my bachelor's degree at the same time as my associate's degree," she said.
Lafferty explained that she spoke with Dr. Richard Hudanick, Dean of career and technical education, who suggested she enroll and begin working toward a bachelor's degree right away.
"After talking with Dr. Hudanick about my options, I decided on CMU," she said. "CMU was an easy and quick transfer — all of my classes were available online, making it very flexible and convenient."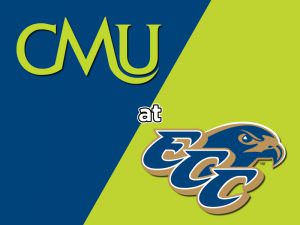 QCM and COVID-19
According to Lafferty, QCM's product serve a variety of industries, including healthcare, construction, consumer goods, agricultural, sporting goods, lighting, toys and maritime.
The company has seen increased production of medical plastic products due to the COVID-19 pandemic.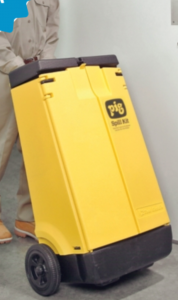 One product that has been in high demand is a "Hazmat caddy," Lafferty said.
She explained that the caddy is made from molded plastic and has compartments to hold cleaning supplies, towels, tools and anything else that may be needed for a hazardous material spill, or a medical situation.
"Every piece of the caddy was molded at QCM and then put together in another department," she said. "Our customers needed them as quickly as possible, so we stepped up and helped out."
The company produces plastic cups and pitchers, as well as bed pans, which are used in hospital rooms.