College Preparing for Accrediting Body Visit
East Central College staff and faculty have been preparing for an important visit this spring from the Higher Learning Commission (HLC), the college's accrediting body.
A five-person peer review team with HLC will visit ECC April 11-12 as part of the college's accreditation, which is a "stamp of approval" that demonstrates the college is deeply committed to educational quality and improvement.
The team will meet with faculty, staff and students, and review the college's assurance argument, a narrative that makes the case ECC meets the criteria for accreditation.
In preparation for the upcoming visit, the college has been educating employees and students on the importance of accreditation. The team driving the college's accreditation process are Dr. Robyn Walter, vice president of academic affairs; Dr. Michelle Smith, executive director of institutional effectiveness; and Jennifer Higerd, assistant professor of art and art gallery curator.
"We are already doing good work in meeting our educational commitment to students, and providing educational and cultural opportunities to our communities," Higerd said.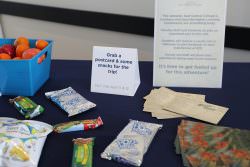 "During the last year and a half, we've been preparing for the HLC visit by compiling examples of this good work – examples we'll put into our assurance argument."
Accreditation is a guarantee to the public that an institution is prepared to do its job. It is required for institutions to receive federal funding, including financial aid which is distributed to students.
In addition to funding, accreditation also is an indicator that colleges and universities provide high-quality educational programs, which greatly impacts transfer degrees. Most institutions only accept transfer credits from colleges and universities that are accredited.
"East Central College is proud to be accredited through the HLC and looks forward to a comprehensive evaluation to ensure they are meeting the HLC Criteria for Accreditation," Walter said.
She noted that other academic agencies accredit specific programs, such as culinary, medical assisting, education, and more, HLC accredits the institution as a whole.
"HLC and other regional accrediting agencies are responsible for assuring that entire colleges and universities meet certain standards in terms of their missions, operations, and activities in teaching and student learning, discovery and promotion of knowledge, and service," Walter added.
ECC first earned accreditation from the Higher Learning Commission of the North Central Association in 1976. Since that time, the College has maintained a history of accreditation and engagement with the HLC.
The HLC is the accrediting body for ECC and about 1,000 colleges and universities in 19 states that stretch from West Virginia to Arizona. HLC is a private, nonprofit accrediting agency. It is an independent corporation that was founded in 1895 as one of six regional institutional accreditors in the United States.
Criteria
The HLC has a set of five criteria that is reviewed during the accreditation process:
The college's mission
• Integrity —ethical and responsible conduct
• Teaching and learning — quality, resources and support
• Teaching and learning — evaluation and Improvement
• Resources, planning and institutional effectiveness
To promote accreditation and educate ECC employees, students and the community, the college's accreditation committee has been meeting on campus with faculty, staff and students. In addition, "mock" site reviewers were on campus, Nov. 15-16, 2021, to meet with stakeholders and give the campus community an idea of what to expect during the HLC visit in April.
"In addition to the mock visit, we've been preparing with our colleagues through workshops and roundtable discussions, where members of different employee groups share anecdotes and examples of the ways that we all, in our daily work, support and meet HLC's criteria for accreditation," Higerd added.