Cuba Resident Finds Calling in ECC Welding Lab
Nearly two years ago, Jessica McMillan Brown picked up a copy of the Cuba Free Press that featured a story about a mother and son taking welding courses together at East Central College.
The story was written about Bridget Teaters and her son, Wyatt Watkins, of the Bourbon area, who both were enrolled in the 16-week Fast Track welding program at ECC. Watkins and Teaters earned their welding certificates in 2020.
The thought of enrolling in welding courses intrigued Brown, she said. So, she clipped the article from the paper to hang onto it.
Brown added that she saw similarities between herself and Teaters. They are both women interested in welding, a male-dominated field, they both have sons and are from the same area — Brown from Cuba and Teaters from Bourbon.
Brown explained she had been working in the health care field and following a series of unfortunate events, she began to reevaluate life for her and her son, Justin.
"That's around when I read (again) the newspaper story about Bridget and her son welding together, and naturally, the story pulled on my heartstrings, a lot," she said. "So much in fact, that I can honestly say it has changed the course of my life forever."
Brown was approved for Missouri Department of Higher Education and Workforce Development funding and Pell grants. She registered for the FastTrack welding program.
"I knew that continuing my education would be the best thing I could for myself and my family," she said.
Beginning the Program
Yet, Brown said, she still was nervous about the new venture, and the shift of career focus from one she had worked in for many years.
But Brown received an email from her instructor — Teaters, who was working for her first time as welding adjunct instructor.
"My nerves settled immediately," Brown said. "That was a good way to start off 16 weeks of classes."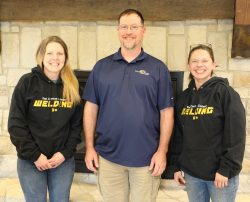 It wasn't long and Brown knew she made the right decision.
"ECC and the Business and Industry Center (BIC) have so much to offer, from the most knowledgeable instructors to the extremely helpful and pleasant staff in the BIC, and on the main campus," she said.
Brown noted that everyone associated with the welding program and the BIC has helped ensure her success.
"It was love at first sight when I was briefly introduced to the welding robot, and the waterjet cutting machine — well basically everything I've come in contact with within that facility so far, and it's bringing out this side of me I had no idea existed until recently," she said.
Following the 16-weeks of courses, Brown received a certificate of specialization in welding.
Brown is now working on an Associate of Applied Science in Applied Technology degree, which allows her to stack certificates from varying technical areas into a degree.
AWS Scholarship
Last week, Brown was notified that she will receive the American Welding Society (AWS) Samuel Gentry Scholarship for $5,000.
Brown encourages other students to apply for scholarships and grants, like she did, to help cover tuition cost, fees, books, supplies and more.
"I will graduate with my associate degree completely debt-free," she said. "I think a lot of people never take the chance on going to college because of the debt but there are so many resources out there — if you put in the work and do your research to locate these resources, it literally pays off."
Women in Welding
When Teaters was working toward a Certificate of Specialization two years ago, she was the only female student in the program.
Brown was one of two females in the welding program while working toward her certificate this past spring.
According to Bobby Bland, welding program coordinator, that fits the trend of a low percentage of women who choose welding as a career.
"Women tend to steer away from the welding industry," he said. "There is nothing in welding that a woman can't excel at — from the welding process, supervisory positions, to owning a company — women have the opportunity to have an exciting career in welding."
Bland, who has worked across the country as a welder, added that women are, "in high demand to fill a variety of welding jobs within Franklin County and across the nation."
Brown added that a career in welding may not be for everyone, but for her, it was a welcome change.
"I have always had office jobs and I was ready for something new," she said. "I wanted a hands-on job, one where I could get dirty, and I hope one day my son will have these kinds of skills."
Brown said she did not know what to expect when enrolling in the welding course, but she is glad she took the chance.
If others read about her journey to ECC, like she did with Teaters, they may make a positive life-changing decision as she did, Brown commented.
"If one person is impacted, that's great," she said. "If it is a female, even better."
"Anyone who is on the fence about a mid-life career change — male or female, it doesn't matter — don't wait.  Life is too short to be unhappy in a job."