Culinary Arts Student Receives $1,000 DMR Events Scholarship
East Central Culinary Arts program student Kalie Mullins received a $1,000 scholarship from DMR Events Inc., for her continuous efforts academically and professionally.
That's according to Chef Mike Palazzola, Culinary Arts program director, who said Mullins, of Warrenton, has a bright future in the restaurant world.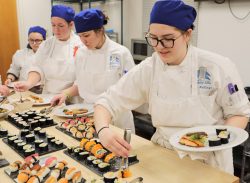 "Kalie has maintained great attendance and made the President's and Vice President's lists for academic success," he said. "She also has demonstrated through her professionalism and work ethic on a daily basis that she could earn a spot in any kitchen she desires."
Nick Risch, executive vice president and chief financial officer of DMR Events Inc., a hospitality staffing company, presented Mullins with the scholarship.
"DMR believes that the key to the foodservice industry's future is energizing the next generation," Risch said. "By providing opportunities to East Central students the culinary world will grow and provide a strong future for everyone."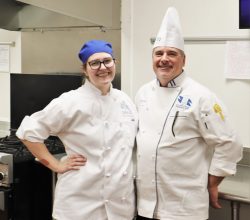 DMR Events Inc. is a member of the American Culinary Federation & the American Staffing Association. The company was founded in 1987 specializing in front of house temporary staffing and culinary back of the house staffing, as well as professional chefs.
DMR Events is the recognized Premier supplier of hospitality staffing in the St. Louis metropolitan area.
To learn more about ECC's Culinary Arts program, visit www.eastcentral.edu/career-technical-education/culinary-arts/, or contact Chef Palazzola at 636-584-6793, or Michael.Palazzola@eastcentral.edu.