East Central College, Missouri S&T Sign Historic Agreement
East Central College and Missouri University of Science and Technology are now working together to help reduce college costs and help students earn a degree in less time.
On October 13, Dr. Jon Bauer, East Central College President, Dr. Christopher G. Maples, Missouri S&T interim chancellor, and Dr. Robert Marley, Missouri S&T Provost and Executive Vice Chancellor for Academic Affairs, formalized the concurrent enrollment agreement, allowing students to enroll in both schools at the same time.
Two students are helping pilot the Campus Connections program, including Fletcher Collins (pictured below).
"You really get the best of both worlds," said Collins. The computer engineer major says the Campus Connections program just makes fiscal sense. "I'm using my A+ Scholarship money to pay for my East Central College classes, and I still get the perks of attending a four-year university."
Approved by the Missouri Department of Higher Education for inclusion in a state-wide pilot program, the concurrent enrollment program is designed to help students earn a degree in less time while spending less on college.
"This program works because we are putting students in the center," said Dr. Bauer. "This is not about competition between schools – it's about collaboration between schools."
Students also will have the ability to complete an associate's degree from East Central College while working toward a bachelor's degree from Missouri S&T.
East Central College and Missouri S&T have a thriving transfer partnership that was established more than 40 years ago. Originally established for the benefit of engineering students, the partnership has expanded to include students majoring in more than 40 different degree programs.
Learn more about how to apply for the program!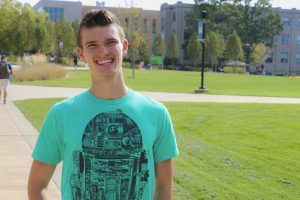 Freshmen Fletcher Collins, Rolla, is enrolled in classes at ECC-Rolla and Missouri S&T.