ECC Art Program Grad Earns Full Ride to Webster University
East Central College Class of 2023 graduate Parker Williamson received a Presidential Transfer Scholarship from Webster University, where she will study graphic design and ceramics.
Williamson, of Sullivan, graduated Cum Laude from ECC on May 13 with an Associate of Fine Arts degree, emphasizing in graphic design and ceramics. She will start at Webster in August.
The Webster Presidential Transfer Scholarship is a full-tuition scholarship award, which is eligible for renewal for an additional year.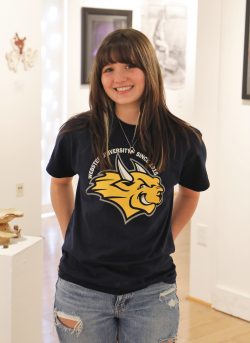 Williamson received the scholarship for academic achievement and leadership. At ECC, she served as the president of the Art Club, and she was a member of the Phi Theta Kappa Honor Society.
"I really couldn't believe it — I was stunned," Williamson said about learning of the scholarship award. "It's a full ride as long as I maintain a 3.0 and I am a full-time student."
Williamson also will participate in the Webster LEADS program while she works toward a bachelor's degree in graphic design. The LEADS program encourages students to serve as educational role models within the Webster community.
"I love the possibilities of graphic design. There are so many career paths to choose from," she said, adding that after she graduates, she would, "love to get a job designing billboards or posters for a big company."
Williamson noted that she will continue to study and create ceramics.
"Ceramics is my passion and I want to keep that practice in my life," she said. "I love being able to make my own true functional objects I can use in everyday life. I love when art becomes useful and that's why I love learning and studying new things in ceramics."
Her experience at ECC and in the Art program helped her succeed, she added.
"ECC is a great college with a great Art program. There are a variety of classes that will push you to expand your skills and knowledge in the art world, in every way possible," Williamson said.
ECC and its art instructors have helped prepare her for Webster University, she said, while inspiring her to follow through with her education.
"All of the wonderful art department instructors have helped me along the way, but Sean Barton, (graphic design instructor and art and design department executive), has helped me the most," she said. "He made sure I looked at all my options when it comes to schools and made sure I know all the right questions to ask, and that I'm well informed in any decision I may make."
Williamson was active in ECC events through organizations, like the Art Club.
"I love the environment at ECC, it's super comfortable and accessible," she said. "I feel very comfortable walking anywhere and everyone is easy to talk to — there are always fun events and clubs to be involved in."