'Cookie' Hays Named Outstanding ECC Alumni
Ina "Cookie" Hays is the only person to be a graduate, support staff member, professional staff member, administrator, and trustee at East Central College, giving her a unique perspective of the College.
And now, she can add Outstanding ECC Alumni award recipient to the list.
Hays was presented the award at the ECC Commencement on May 13 by President Dr. Jon Bauer. This prestigious award is given annually by the ECC Foundation and is the highest award presented to an alum.
"I have experienced ECC as a student, graduate, support staff, professional staff and I retired as an administrator," Hays said after accepting the award.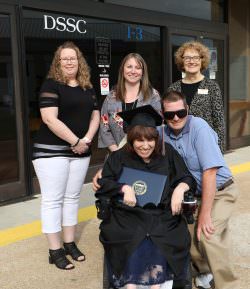 "Now it's my honor to serve our community as an elected trustee," She added. "In that role, I hope to ensure that East Central continues to provide an excellent learning environment and opportunities for generations to come."
Hays has dedicated more than 50 years of service to the College as an employee and Trustee.
"When I graduated from Washington High in 1970, I didn't see many options for young women like me," she said. "I dreamed of going to college, but higher education seemed out of reach for someone whose family had never attended."
"Thanks to the forward thinking of several community leaders," Hays continued, "East Central Junior College became a reality, and our community was transformed."
She noted that her husband, Don, and two children graduated from ECC.
Addressing the ECC Class of 2023, Hays said, "Today we can all be proud to call ourselves graduates of ECC."
Hays was both a student and student worker when she graduated from "East Central Junior College" in 1973.
She was in one of the first graduating classes, initially taking classes in Union Memorial Auditorium before moving to the current campus to take courses.
Career at ECC
After graduation, she began her career at ECC that would span 41 years. She held several positions until she became the Vice President for Student Development in 2009.
Hays worked in or with every department on the Union campus and the College extension sites. Her position at ECC took her to every high school district throughout the service region.
"The faculty and staff I have met over the years have inspired me to grow professionally and helped me gain confidence in my abilities," she said. "Many have become lifelong friends."
Her first position at ECC was an administrative assistant role, a position she served in for 15 years. She then moved into the position of assistant to a vice president for a year.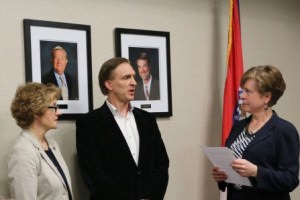 In 1989, she became an academic advisor, serving 9 years in that office. Hays then was named as the interim director of counseling services for a year, until she was appointed to that position, serving for another year.
Her next step at ECC was as the dean of student development, a role that she was in for 8 years.
Then, in 2009 she was named the vice president of student development. She retired from the College in 2014 while serving as the vice president of student development.
Hays earned a Bachelor of Science degree in Business Management from Maryville University while employed at ECC, and then she recieved a Master of Education in Counseling from the University of Missouri-St. Louis.
In 2016, two years after retiring from the College, Hays was elected to her first six-year term on the ECC Board of Trustees. She was re-elected in 2022 and she continues to promote and guide ECC.