Registration Open for Summer Learning Academy Classes
There still are opportunities to register for Summer Learning Academy (SLA) classes offered through East Central College's Community Education program.
SLA provides a unique, fun experience for area youth on the Union campus and in Rolla. There is no cost to attend classes, but registration is required. To sign up for classes or to request to be on a waitlist, visit www.eastcentral.edu/community/SLA.
SLA is free thanks to the generosity of sponsors, including SLA Gold sponsors: Jimmy John's, the Rotary Club of Washington, ECC Foundation, Brewer Science, Inc. and Edward Jones (various offices). View all of our sponsors on the SLA website.
Some classes meet once, and others meet twice in a week, or three to five days. The first class in Rolla begin July 10, and all the classes wrap up on or before Aug. 3.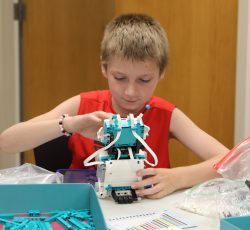 Classes in the College's SLA are designed with curiosity and creativity in mind — letting students develop talents and encourage exploration and personal growth. Classes are offered for students ages five to 18 and cover a wide range of topics.
According to Loretta Peterman, corporate STEM education manager with Brewer Science, Inc., SLA offers a fun opportunity for children to learn.
"The Summer Learning Academy is always a lot of fun and the students are eager to have fun while learning," she said. "Students can explore at their own speed — no grades and no homework make Summer Learning Academy very attractive."
SLA is a wonderful opportunity for students to learn new skills, make new friends, and have fun. All area youth are invited to participate.
Michelle Widener, the mother of an SLA participant, said she is impressed with the program and her family quickly noticed the benefits.
"It was a great way to introduce my daughter to new experiences and it opened up a new creative avenue for her," she said. "We are so thankful for this great resource."
Among the classes still available in Union are:

Fiber Crafts
Laugh Your Way to Improve
Escape Room-Post Apocalyptic
Get to Know Franklin County
Fishing
Christmas in July
Fire Safety
Internet Safety
Drumming Leadership
Some of the classes still available in Rolla are:

Intro to Kayaking
Mammals of Missouri
Amazing Anatomy
Picture Yourself a Radiologic Technician
Christmas in July
Jazz Funk Dance
Juggling for Beginners
It's Your Bag
Animal Portraiture
Tabletop Game Design
Internet Safety
WeDo Robotics
Students or parents will be asked to prioritize their interests while registering. Participants can register for a maximum of four classes, but not all the classes are guaranteed.
For more information, people may email Pam.Kaiser@eastcentral.edu or call 636-649-5803.